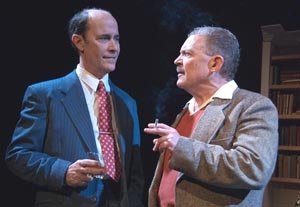 Diaries and eulogies can offer telling glimpses into history, literary and otherwise. What they seldom do is convert into compelling drama on the stage. Alas, the 80-minute "Remembering Mr. Maugham" offers no exception. Written by Garson Kanin after the 1965 death of celebrated author Somerset Maugham at the age of nearly 92, it remains more name-dropping tribute than evocative or insightful theater.
The narrative is so sketchy that we never even find out how Kanin and Maugham, the only two characters in the play, ever met, much less became such intimate friends. We hear a lot about making a perfectly cold martini but less about a then-controversial line in "A Constant Wife," Maugham's best-known and much-revived play. His three most famous novels—"Of Human Bondage," "The Moon and Sixpence," and "The Razor's Edge"—are mentioned mostly in passing. Maugham here says he wrote "The Moon and Sixpence" (based on the life of Gauguin) because he had gone to Tahiti, not the other way around, as some thought. But instead of expanding on this, we cut right back to Claudette Colbert's rather uninteresting 1954 luau in the South of France.
As a writer and director of golden-age screenplays, equally celebrated in his field as Maugham was in his, Kanin could have offered some wonderful conversation about the justly celebrated and successful movie versions of those three classic Maugham novels. Instead, he would rather talk about dinner with the Doubledays in South Carolina or Vivien Leigh and Maugham meeting for the first time, flirting, getting drunk, and arguing over the correct pronunciation of a title within "Cakes and Ale."
Blame for this scattershot, surface approach would seem to rest squarely on Kanin, who played himself in an earlier, longer version (opposite Dennis King), and whose stage directions specify that the spotlight literally and metaphorically should remain on Maugham. (Lighting designer Natalie Robin has complied.) It is possible that the paring down of Kanin's script by unnamed hands for this production has resulted in the loss of some literary gems; nevertheless, the structure still belongs to the originator. Kanin too often serves as merely an oral calendar, telling us where we are between 1936 and 1965 and among London, New York, Paris, Beverly Hills, and St. Jean-Cap-Ferrat on the Riviera, where Maugham lived for much of his life. That renders this play a one-and-a-half hander rather than a two-hander.
Daniel Zimmerman's cozy library serves as a neat physical set for all locales, but the verbal transitions and physical movements are too often awkward. The casting also seems a little off. Robert Emmet Lunney bears some physical resemblance to Kanin, but he mostly comes off as an accountant from the Valley who has wandered into the great man's living room rather than as a witty intellectual equal. Sam Tsoutsouvas is convincing in delivering Maugham's stammer and short stature but less so in essaying his fey nobility.
Presented by Philip Morgaman, Emily Miller, and Frankie J. Grande at the Clurman Theatre, 410 W. 42nd St. NYC. March 7–13. Tue., 7 p.m.; Wed.–Sat., 8 p.m.; Wed. and Sat., 2 p.m. (212) 279-4200 or www.ticketcentral.com. Casting by Geoff Josselson.