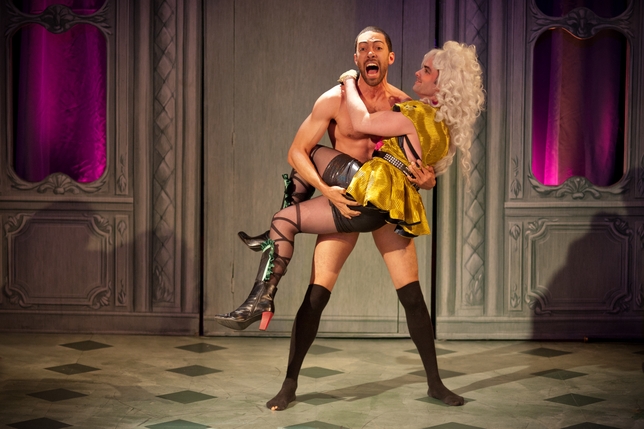 Be warned. Not about the extreme profanity or bare-bottom nudity that abound in Amy Freed's "Restoration Comedy," at the Flea Theater, but about the evening's length. Oh, there's a play in there all right, of the standard two hours in running time. But this riff on two actual Restoration comedies—Colley Cibber's "Love's Last Shift" and John Vanbrugh's far better known "The Relapse"—is trumped by a surrounding and intervening Tribeca party night. It begins with free cocktails dispensed by the Flea's resident acting company, the Bats, to audience members—whom they seem to outnumber—in full costume and with appalling English accents. Between two acts of just a bit more than an hour each is a very long intermission, during which hot hors d'oeuvres are passed with yet more cocktails. The mingling revels get so intense at the interval that the second act must be announced by a huge thunderclap. When the play ends, the cast-patron dancing begins. Figure a four-hour commitment to the whole exercise if you go.
Forgive me if I review only the play, which is what I went to do. Satirizing a satirical genre is already a tricky business, and Freed has only partially succeeded in using the 17th-century model to put forth her modern themes: the marital institution versus both true and free love, gender and marriage equality, and the freedom to discuss and display one's sexuality overtly. Indeed, these themes become clear and are explored only in the second act. The first act follows a fairly conventional Restoration plotline. A young woman who thinks she's a widow, Amanda (Allison Buck), discovers that her "late" husband, the aptly named Loveless (James Fouhey), is really alive and addicted to casual sex. To win him back and make him faithful, she conspires with his friend Worthy (Seth Moore) to become, as she puts it, "a big slut," disguised only in an eye mask. The plan works, but now Worthy's love for Amanda is unrequited. In the funnier second act subplots are introduced. The sexually ambiguous Foppington (Stephen Stout) plans to marry a hayseed heiress, Hoyden (Bonnie Milligan, a comic delight), while Amanda's siren of a cousin, Berinthia (Rosa Gilmore), sets her cap for Loveless. The actors are all archly right, and the graceful Moore could play Restoration comedy for real.
Director Ed Sylvanus Iskandar seems complicit in the surrounding and integrated frou-frou. One character says early in the proceedings, "We just did this so we could get to wear the clothes," and it sometimes seems that way. (The effectively garish mock-Restoration costumes are by Loren Shaw.) The large mish-mash of music is mostly prerecorded, with only an occasional harpsichord passage to remind us of the period. Otherwise, we are treated to such anachronisms as a hip-hop minuet. The outstanding number is the live bluegrass ditty "Make Me Happy," in honor of Hoyden's country nuptials, composed by music director David Dabbon and very well played and sung by cast members.
Presented by and at the Flea Theater, 41 White St., NYC. Dec. 10–30. (212) 352-3101, (866) 811-4111, www.theatermania.com, or www.theflea.org.
Critic's Score: C+