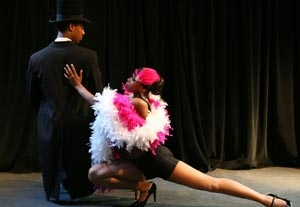 The only thing scandalous about the musical "Scandalous People" is that the utter ineptitude of its writing didn't prevent someone from wildly overproducing it in the Fringe Festival.
Myla Churchill's book attempts to tell the story of Dewey, proprietor and star of Harlem's Do Drop Inn nightclub in the 1920s, who longs to present an interracial musical revue at a time when racial mixing on nightclub stages was forbidden by law. Mae West, Duke Ellington, and the gangster Dutch Schultz all figure into it, but the plotting is ludicrously obvious, the characterizations one-dimensional, the scene construction ragged, and the dialogue trite, particularly when lapsing into rhymed couplets for no discernible reason. Churchill's lyrics are even worse, so badly misaccented and rhymed that at times they sound like gibberish. Composer Benny Russell is clearly acquainted with the sounds of the period, but he has no sense of how to structure a song nor much of a gift for melody.
The talented cast includes Eugene Fleming as Dewey, but only Nicole Hill as his wife and star manages to rise above the authors' incompetence, which ultimately trivializes the important issues they raise.
Presented by MyChurch Productions as part of the New York International Fringe Festivalat the Minetta Lane Theatre, 18 Minetta Lane, NYC
.
Aug. 19
–
29. Remaining performances
:
Fri
.,
Aug. 28, 9:15 p.m
.;
Sat
.,
Aug. 29, 2:15 p.m
.(
866
)
468-7619 or www.fringenyc.org
.
Casting by W/S Casting
.