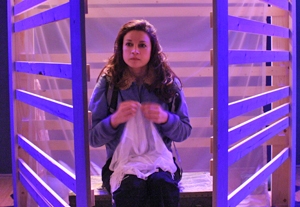 In a masterful display of acting and storytelling, Anna Khaja rivets the audience to its seats with her depiction of the events leading up to the assassination of Benazir Bhutto, the former prime minister of Pakistan. She and director Heather de Michele create a series of interlocking conversations between Bhutto and seven different characters, each of whom views the complicated Bhutto in a different way, from friend to savior to betrayer. Taking their cue from the work of such portrait-playwrights as Anna Deavere Smith and Eric Bogosian, Khaja and de Michele deliver 80 minutes of funny, informative, moving, and ultimately profound theater.
The technical elements are equally first-rate, especially Colyn Emery and Phil Young's music, Sharif Khan and John Zalewski's sound design, and Sam Saldivar's projection design.
Over the years, the Fringe has launched a number of shows toward continued life in New York. This play deserves to be next.
Presented by Off-Chance Productions as part of the New York International Fringe Festival at Dixon Place, 161A Chrystie St., NYC. Aug. 13–29. Remaining performances: Thu., Aug. 26, 5:30 p.m.; Sat., Aug. 28, 9 p.m.; Sun., Aug. 29, 2 p.m. (866) 468-7619 or www.fringenyc.org.