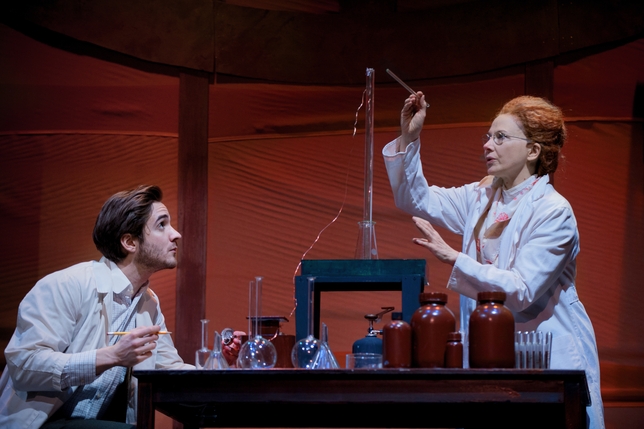 Diana LaMar is giving a strong, at times touching central performance as Marie Curie in Shirley Lauro's "The Radiant," about seven years in the Nobel laureate's life, but it's not quite enough to make up for the sketchy nature and quick-cut structure of Lauro's script. The play takes place between 1906—shortly after Pierre Curie's tragic accidental death at 46—and 1913, when Marie is undergoing a long hospitalization for a yet undiagnosed illness. (Later it was found to be acute anemia caused by overexposure to radiation, and she lived another 21 years.) In just a little less than two hours, including intermission, "The Radiant" rushes from scene to scene—in Paris, Normandy, Provence, and Stockholm—without pausing long enough to flesh out any of them.
As a 39-year-old widow, Marie pleads with the Sorbonne's paymaster (Timothy Doyle) for Pierre's back salary and pension. The next moment, seemingly, she is persuaded by her late husband's protégé Paul Langevin (AJ Cedeno) to take over Pierre's office and lab at the university and finish his life's work: the further development of radium. Very soon Marie is neglecting her two young daughters in favor of her science, but we only learn this from brief conversations with her niece (Rachel Berger), who serves as her housemaid and nanny. Marie begins an affair with Langevin, now her lab assistant, a married Catholic who won't divorce his wife and the father of three. Scandal ensues, but it can't forestall Marie's trip to Sweden as the first person to repeat as a Nobel winner. As one of Marie's neglected daughters, Irène Joliot-Curie, herself became a winner of a Nobel Prize in chemistry with her husband, Jean (who had been another of Marie's former lab assistants), it would have made sense to include at least one scene between mother and child, but "The Radiant" employs only four actors (Doyle portrays two other minor characters).
Because Lauro cites no sources for her research, we can't be sure of the veracity of each of these scenes, and presumably the dialogue is mostly made up. The science acted out is pretty elementary, of the beaker-and-Bunsen-burner sort familiar to all high school chemistry students. It's left to Marie's Nobel acceptance speech to explain and extol the significance of her winning discovery: the isolation of pure metal radium, which is the foundation of radiology and advanced diagnoses of and cures for cancer. The real Langevin, himself later an acclaimed physicist, was four-and-a-half years younger than Marie but is cast here with an even greater age disparity. Cedeno plays him earnestly, but the actor's matinee-idol looks lessen the credibility of a torrid romance with LaMar's much plainer lab-bound drudge.
Director Melanie Moyer Williams has at least rendered virtually seamless the transitions between the snippets of scenes, with Rowan Doyle's effective, all-purpose period set allowing for rapid changes.
Presented by Red Fern Theatre Company at the Theater at the 14th Street Y, 344 E. 14th St., NYC. Feb. 23–March 10. (212) 352-3101, (866) 811-4111, or www.theatermania.com.
Critic's Score: B-