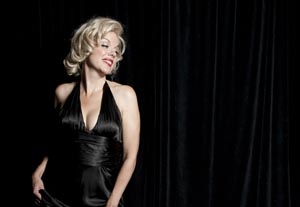 Do we need yet another play about Marilyn Monroe, one-person or otherwise? No. Does this one offer any new information about, or insight into, its subject? Also no. Author Walt Stepp has attempted to distance his 75-minute piece from prior works by means of two quirky deviations. First, he sets his Marilyn in purgatory, which allows her to have died in 1962 yet still be talking about her life and regrets to a live audience in 2011. Second, he gives her five songs not in the M.M. repertoire. He composed them all, but three sport lyrics based on poems by William Butler Yeats, one on a poem by Gerard Manley Hopkins, and one, "If You Could See Me as I Am," contains his own lyrics. The four largely inapt poetry-based songs could be charming in another context, while Stepp's own number merely serves to underscore that this play is offering the same old dichotomy between frightened and abused Norma Jean Baker and the international sex goddess she became.
Yes, the familiar touchstones are all there, if not always felicitously executed. A wheezy floor fan lifts Marilyn's "Seven Year Itch" skirt barely up to her knees, rather than well above them, as it should. The wig chosen for "Happy Birthday, Mr. President," which looks like two hairpieces one top of each other, makes M.M. look more like Carol Channing, and it's not meant as a lead-in to "Gentlemen Prefer Blondes." Marilyn talking to large, suspended black-and-white headshots of her idols such as Orson Wells, Marlene Dietrich, Billy Wilder, George Sanders and Kim Novak, is only partly successful. However, Davis Zen Mansley's voice-overs of the males are effective. Mercifully, there are no nutty conspiracy theories about the Kennedys having Marilyn killed; she takes full blame here for her accidental death.
Louisa Bradshaw, who bears only a passing resemblance to the Marilyn, gives a game performance, and sings as well as Marilyn ever did. She is also convincing in briefly playing Gladys Baker, Norma Jean's mother, and Jane Russell, Marilyn's co-star in "Gentlemen Prefer Blondes" and soul mate. But blame must be apportioned among the solo performer, Stepp and director Lissa Moira (who also bills herself in the program as "dramaturge") for the all-out howlers in the script and delivery. Darryl Zanuck was one of the few Hollywood moguls who wasn't Jewish, so he should not be lumped in with Marilyn's set piece on her preference for Jewish boys. (Zanuck was also M.M.'s boss at the time.) The poet Dame Edith Sitwell was not a great English actress; I think they mean Dame Edith Evans, a rough contemporary of Sitwell's. Mistakes like these are unforgivable, as are mispronunciations of Elia Kazan's first name (it's Eelia, not Ellya) and of the word "implicit" (it's "implisit," not "impikit").
Presented by and at Theater for the New City, 155 First Ave., NYC. Oct. 9-23; Wed.-Sat., 8 p.m.; Sun., 3 p.m. (No performance, Wed., Oct. 12) (212) 868-4444 or www.smartix.com
.