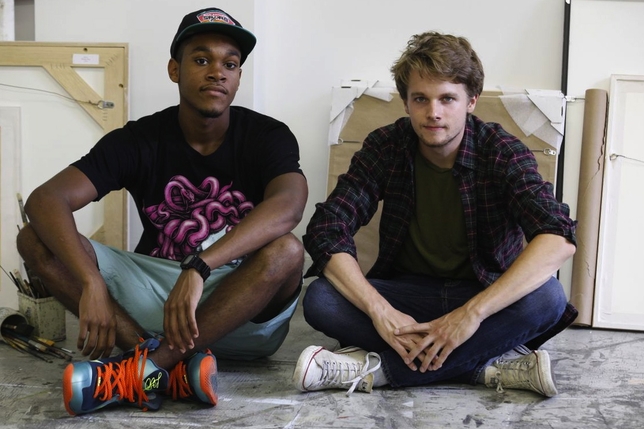 Watching "SleepOver," it becomes clear that high school senior Max W. Friedlich is a talented writer, with a sharp ear for dialogue and a good eye for character. Though "SleepOver" is short on dramatic action and peters out in an unclear ending, those faults don't mitigate the satisfaction of encountering a promising talent.
The 17-year-old playwright won the 2012 Stephen Sondheim Young Playwrights Award for "SleepOver," and it seems well-deserved. There's an unsettling, Albee-like menace to high school junior Theo Metayer, who shows up at sophomore Matt Brixton's Park Slope brownstone uninvited and talks Theo's free-spirited mother, Jasmine, into letting him stay for a couple of weeks. We never believe it's because his parents' apartment is being renovated, and his alternating friendly and belligerent behavior toward Matt, who's dealing with issues of his own and really doesn't want Theo there, can change on a dime.
Director Dann Fink gets fine performances from Jared Kemp (Theo), Brandon Reilly (Matt), and Brandy Zarle (Jasmine). Marcus Maurice has a quick closing scene as Theo's dour dad, but the character is little more than a device. Frustratingly, we're never sure why Theo invaded Matt's household, and it's too ambiguous as to whether Jasmine behaved in a shockingly improper way with her guest.
Friedlich's portraits of his contemporaries feel particularly vivid and true. However, their blithe use of words such as "faggot" and "nigger," as well as the employment of "gay" as a pejorative, which Jasmine echoes at one point, is dispiriting. I know that many teenagers speak like that, but it would have been wise to have a character whose point of view is that such usage is abhorrent. Without that, Friedlich appears to be endorsing it.
Presented by SleepOver Productions as part of the New York International Fringe Festival at theCherryLaneTheatre,38 Commerce St., NYC. Aug. 12–25. Remaining performances: Tue., Aug. 21, 8:30 p.m.; Wed., Aug. 22, 7 p.m.; Sat., Aug. 25, 5:30 p.m. (866) 468-7619 or www.fringenyc.org. Casting Consultant: Cindi Rush Casting.
Critic's score: B