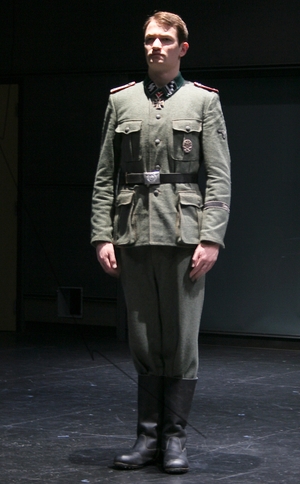 Jonathan Draxton conceived of "Soldier" while he was an undergraduate at Williams College, after his professor assigned the students to write a theater piece on a subject that bothered them. The subject Draxton picked, as he later explained in an essay accompanying his Kickstarter fundraising campaign, was war, and especially "how we portray war in art."
Somehow his assignment led to a solo show at Here focused on a character named Heinrich Weiss, a Nazi officer. In "Soldier," Draxton, as Obersturmfuhrer Weiss, enters the theater in full S.S. uniform speaking German, later sings "Deutschland Uber Alles" and gives the Nazi salute, and eventually tells us of the "many Jews, Jewesses, Communists, Bolshevists, and their kinder" that he killed when he was alive. He is dead now, you see, and seeking coins to secure passage for him and his men across the River Styx. Pennies were distributed to patrons before they entered the theater, and by the end of the 50-minute play Weiss had gone to each and every one of us asking for a coin.
This is not the only way he interacts with the audience. Director Kevin O'Rourke has placed the theater seats seemingly at random (roughly in concentric circles), so that there is no real stage. Weiss delivers his monologue while threading through the audience, sometimes asking questions of individual theatergoers, sometimes kneeling down and placing his hands on someone's knee and shoulder and looking into his or her eyes as he speaks. As often as not, Draxton's back is to much of the audience, or he is in-between the spotlights, lost in the dark.
"Soldier" is certainly impressive as a homework assignment, and Draxton, who graduated this year, is an ambitious theater maker and a promising talent as an actor. He is quite convincing as a boyishly charming soldier who tells excited stories of his childhood and youth before referring matter-of-factly to his atrocities, framing them unapologetically as something he did to help "create a new world." But half a century after Hannah Arendt coined the phrase "the banality of evil" to describe her belief that ordinary people could participate in such horrors as the Holocaust, "Soldier" offers no new insights. I just didn't understand what our moral dilemma as audience members was supposed to be, and I was shocked at the few who gave Weiss the coin he requested, prompting him to respond with a "Heil Hitler" in thanks.
Yes, "Soldier" makes the audience uncomfortable. But the discomfort comes not from any confrontation with inconvenient truths but as a byproduct of the inept and intrusive staging.
Presented by the Plowmen at Here, 145 Sixth Ave., NYC. Dec. 13–22. (212) 352-3101, (866) 811-4111, www.theatermania.com, or www.here.org.
Critic's Score: D