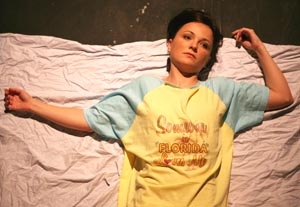 Written and directed by the very talented Jane Pickett,
Someone in Florida Loves Me
is just a sliver of a play, but it's none the less potent for it.
On a cold night in Brooklyn, flight attendant Nicole (Ana Perea) has arrived at a boarding house on the spur of the moment to visit her childhood friend Annie (Lisa Louttit). But Annie doesn't seem very pleased that Nicole has popped in after years of silence. Before long, both of them are wielding words and reminiscences like a series of knives, graduating from tiny needle pricks to huge swinging scythes designed to cut one another down to size. Gradually, Pickett reveals that she's less interested in exploring Annie and Nicole's attempt to rekindle their friendship than in shining a light on the ways loneliness can distort our vision, both of ourselves and of others.
Unfortunately, Pickett widens her gimlet gaze in the play's final moments to include Annie's neighbor (T.M. Bergman), with whom she shares a bathroom. Allotting only a few moments to their scene together isn't enough to make their odd conversation any less strange, particularly as Annie barges into his bedroom in the middle of the night. The scene also suffers from Pickett's choice to use the same device—overlapping monologues posing as conversation—that makes Annie and Nicole's scenes together so funny and awkward.
Louttit and Perea go for broke in those conversations, during which Perea proves herself an actor to watch, with seamless transitions from hilarious raconteur to deeply lonely woman hiding behind ornamental babble. Annie has less of an emotional arc, growing from frazzled to furious, but Louttit makes her a vulnerable person who has finally found a semblance of peace in her solitude. But as Pickett knows, no one can crawl under your skin and upset your uneasy tranquility like a childhood friend who remembers you as you used to be.
Presented by and at the Paradise Factory, 64 E. Fourth St
.,
NYC. June 14
–
28. Thu
.–
Sat
.,
8 p.m
.;
Sun
.,
3 p.m
. (
800
)
838-3006 or www.brownpapertickets.com
.