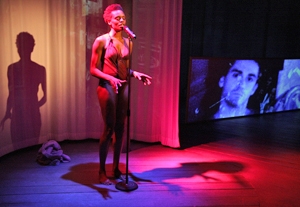 The attractive tug of transcendence, of the potentiality of forces more powerful, more mystical, and sexier than civilization can offer, is the subject of "Sounding," Jennifer Gibbs' new play at Here Arts Center. For sure, the lure of the unexplainable is as strong now as it was in 1888, when Henrik Ibsen wrote the source material for "Sounding," a play called "The Lady from the Sea." In director Kristin Marting's production, though, the lure is a bit too strong. Distracted by their play's mythic overtones, Gibbs and Marting provide a general feeling of erotic mystery while offering dead weight where real characters and a compelling story belong. The production mostly sags and stifles, even if it sings for a few precious moments.
Most of those moments are provided by Okwui Okpokwasili. She plays Leda, a singer-songwriter who feels drawn to the ocean like a tide to the moon, wreaking havoc on her husband and family even as she answers the call of a former lover, who returns as a creepy disembodied voice. Okpokwasili, a magnetic singer, dancer, and actor, uses her searing eyes and taught frame to tease us with a knowledge she takes pleasure in hiding. But Gibbs' dialogue is so weightless, so full of unearned soap-opera earnestness, it leaves her and the rest of the company adrift in open waters. Worse, Marting directs them as if they're in an Albee play, all shock and pause. Against such meatless prose, it reads like disorientation and defeat.
What's left to enjoy are Rie Ono's lights, Nick Vaughan's sets, and Tal Yarden's video design, all of which use stark colors, empty spaces, and dancing ocean waves to clue the audience into Leda's hypnotic trance. The mise en scène works when the script is silent, such as when Okpokwasili performs Kamala Sankaram's new-age rock songs as part of Leda's stage act. Ironically, these scenes function for us a bit like the ocean does for Leda: a tantalizing taste of transcendence and a promise unfulfilled.


Presented by and at Here Arts Center, 145 Sixth Ave., NYC. Feb. 20–March 13. Wed– Sat., 8:30 p.m. (212) 352-3101, (866) 811,4111, www.theatermania.com, or www.here.org. Casting by Judy Bowman.