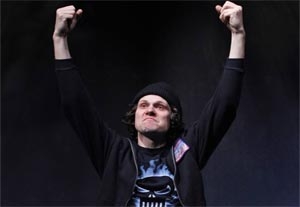 "Spinning the Times," a collection of five short plays by Irish playwrights, claims to be "woven from articles in the New York press." While the individual plays have high points, collectively they're much like a New York tabloid: a seemingly random assortment of stories that leaves the reader puzzled but fascinated.
A more concrete connection could have been made. For example, all are stories of cultural displacement and fragmentation: Two Irish Catholics are violently run out of their homes by Protestant thugs; a Palestinian endures Israeli shells near his home; a Brooklynized woman looks back on her Iranian roots. But the theme is present to such varying degrees and given such vastly different treatments that this thin thread might be too much of a stretch. In Geraldine Aron's "Miracle Conway," the title character (Rosemary Fine) moved from Ireland to London to get an abortion and glibly remarks that she "never went back." That hardly seems comparable to a man fleeing Ireland after receiving death threats.
Viewed individually, the plays—all monologues—have a certain charm, owing to their five actors. Jerzy Gwiazdowski zooms around the difficult playing space, using every inch of stage to relate the contents of his day. Ethan Hova is embarrassingly sincere when recalling the attempts of his friends to retrieve a porno during a cease-fire in Gaza. Fine, in her surreal wackiness, hits punch lines with faultless timing.
"Gin in a Teacup" by Rosalind Haslett is perhaps the most successful of the bunch, combining sardonic humor with wistful longing for a lost cultural history that perhaps never truly existed. Aysan Celik's storytelling—from her tale of "the troll guy," Rumpelstiltskin, to her impersonation of her overbearing sister—is spellbinding.
Haslett's play is also the most geographically far-flung, taking us to New York after Belfast, Gaza, and London. After such a world tour, we feel just as displaced as the characters. While we can appreciate their stories, we're too busy reeling to connect deeply to their tales.
Presented by Origin Theatre Company as part of 1st Irish 2009at 59E59 Theaters, 59 E. 59th St
.,
NYC
.
Sept. 6
–
20. Tue
.,
7:30 p.m
.;
Wed
.–
Sat
.,
8:30 p.m
.;
Sun
.,
3:30 p.m
.(
212
)
279-4200 or www.ticketcentral.com
.