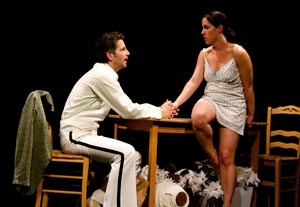 Is it possible to do something with faint praise other than damn? Perhaps appreciate or even encourage? If so,
Strangers
, a new piece from the Shalimar developed in the Ontological-Hysteric Incubator, deserves that treatment. The play doesn't work—it doesn't come close, really. Its intriguing ideas fail to inform one another, and the entire enterprise runs out of steam well before it draws to a close. But there's enough polish and playfulness—two characteristics any theater artist should value highly—to consider the company promising. Like I said, faint praise.
The onstage
Strangers
are seven characters whose lives overlap with the casual coincidences of a Robert Altman film. But unlike in Altman's work, there's no necessity for their meeting. Nothing revealing comes from seeing the characters' different worlds brought into orbit. For the record, those characters include an anxious wife (Jen Taher), her green card–seeking husband (Daniel Popa), his singing male lover (Joey Williamson), the couple's lothario lawyer (Brad Love), the lawyer's femme fatale sidekick (Franny Silverman), the private dick she hires (Peter Allen Stone), and the wife's Brazilian yoga and painting teacher (Kim Gainer), over whom the lawyer flips. In this motley crew there are the makings of a benign romantic comedy, but the authorial intent of playwright Nastaran Ahmadi has something to do with immigration—though I couldn't distill exactly what. Less murky are the film-noir images projected onto Ben Kato's set—though again, the purpose is less than clear.
Amidst the confusion, director Shoshona Currier nevertheless finds an engaging energy, constructing crisp images that cut through the uneven texture. She benefits much from Love's sleazeball warmth and Williamson's strong vocals wrapped around Anthony Gabriele's music. (The evening's best sequence is a wedding day CO2 song with a winning blend of insanity and earnestness.)
I also found myself caring about the lawyer and his Brazilian lover, and if it's the only relationship in the play that inspired feeling, that's one more than most plays manage. Yep, faint praise—but not damning.
Presented by the Shalimar as part of the Ontological-Hysteric Incubatorat the Ontological Theater at St. Mark's Church, 131 E. 10th Street, NYC
.
June 4
–
13. Tue
.,
Thu
.–
Sun
.,
8 p.m
.
(
212
)
352-3101
, (
866
)
811-4111, www.theatermania.com, www.shalimarproductions.org, or www.ontological.com
.