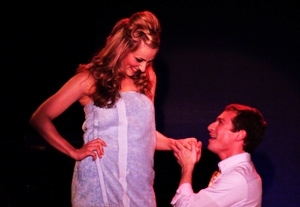 Sometimes it's better to let sleeping flops lie. That's certainly the case with "Subways Are for Sleeping," Betty Comden, Adolph Green, and Jule Styne's 1961 loose adaptation of a book by Edmund G. Love that treats homelessness in New York City with queasy cuteness. Opening Doors Theatre Company gives it the old college try, but the relentless high spirits can't overcome what is undoubtedly the worst script Betty and Adolph ever concocted. If the late musical comedy giants are in Hell, as Christopher Durang's Sister Mary Ignatius once memorably insisted, it's undoubtedly due to their authorship of this dud.
The ridiculous story, which never met a coincidence it didn't like, follows hard-driving lady reporter Angie McKay as she goes undercover to do an exposé on people who refuse to get a job and get by living hand-to-mouth on the streets of New York City. Their ringleader, for lack of a better word, is Tom Bailey, a former denizen of Wall Street who ended up in jail for something that sounds rather like a Ponzi scheme. For just a dime, he guides people to one-time jobs that earn them just enough money to get by for that day. Angie, of course, is fed up herself with the rat race—she hasn't had a vacation in two years!—and so falls in love with her subject. There's also a barely intersecting subplot about a romance between Charlie, a high-society sponger, and Martha, a former beauty-pageant contestant and would-be performer. Martha is stuck in her hotel room because she can't pay the bill and wears nothing but a towel for reasons never entirely explained. Charlie is determined to spring her but lacks the cash. Angie, naturally, is unmasked before she can tell Tom the truth, but all ends happily as Tom, Angie, Charlie, and Martha return to capitalism by starting up a service providing coffee for business offices. Really.
Spencer Plachy as Tom has an unforced charm and sings attractively. He definitely gets the style. As Angie, Erin Cronican is nicely vulnerable and connects well with her lyrics, though she has some trouble negotiating her soprano register. Fortunately, her chest voice is mostly required. Scott McLean Harrison has spent too much time listening to Orson Bean on the show's original cast recording. He needs to make Charlie more his own. Lexi Windsor as Martha slams through the show's funniest number, "I Was a Shoo-In," as if she were playing Ulla in "The Producers." Martha is an iron fist wrapped in a velvet glove of delicate Southern womanhood. Windsor fails to sheathe the iron.
Director Hector Coris keeps the pace fast on the tiny Duplex stage, but Diego Funes' rudimentary, overextensive choreography is frequently unmotivated by anything other than a desire for energy. Special praise goes to Ted Kociolek's excellent musical direction and piano playing. The hero of this musical, if there is one, is Styne, whose score is melodious, breezy, and delightfully quirky. It's too good for the show, something I have a hunch Styne knew, as he recycled part of "Strange Duet" seven years later in the song "Putney on the Thames" for "Darling of the Day."
"Subways Are for Sleeping" did not fare well with the critics the first time around. Indeed, it's the show for which producer David Merrick pulled an infamous stunt: He found people with names that matched the major New York newspaper critics and ran an ad quoting the impostors raving about the show. If it's of any help to Opening Doors Theatre Company, whose enthusiasm I salute, there's an Erik Haagensen who works as a studio potter in Decatur, Ga., and can be easily found via Google.
Presented by Opening Doors Theatre Company at the Duplex Cabaret Theatre, 61 Christopher St., NYC. Nov. 1–11. Sun.–Wed., 7 p.m. (No performance Tue., Nov. 3, and Wed., Nov. 4.) (212) 868-4444 or www.smarttix.com.