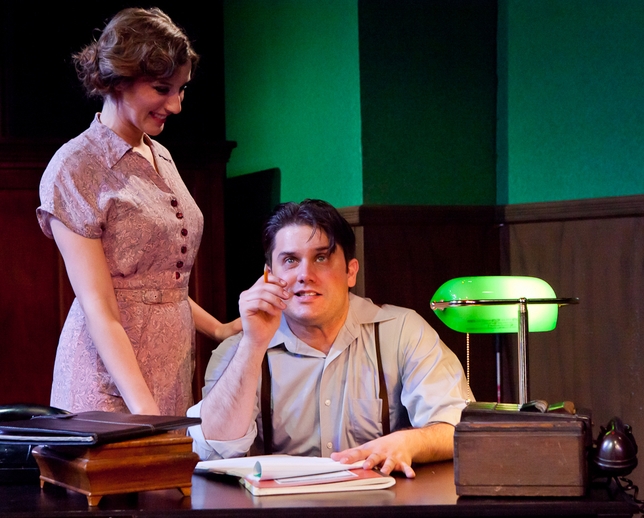 Staging the seldom-seen plays originally presented by the legendary Group Theatre is a fine idea in theory. But in practice ReGroup Theatre's revival of John Howard Lawson's "Success Story" does not live up to its title. Debuting in 1932, the play was the Group's third Broadway outing and featured such luminaries as Stella and Luther Adler, Morris Carnovsky, and Franchot Tone, with direction by Lee Strasberg. The creaky script traces the rise of the ruthless Sol Ginsberg from lowly clerk to chief executive at a Manhattan advertising agency.
There are flashes of relevance as Ginsberg scoffs at ethical business practices in his relentless climb up the corporate ladder. He would fit right in at Goldman Sachs in the 21st century. But unlike the stories of stronger Group Theatre efforts such as Clifford Odets' "Awake and Sing" and "Golden Boy," Lawson's plot drips with melodrama and hasn't aged well. In the first act the idealistic Sol sweats in the statistics department and is in love with the socially conscious secretary Sarah Glassman. After firm president Raymond Merritt puts Sol in charge of the campaign for Glamour Cream, the scrappy up-and-comer drops his values, ditches Sarah, and falls for Merritt's mistress, the heartless flapper Agnes Carter. There's also plenty of high-minded talk about the basic unfairness of capitalism and the firm's goal of pushing useless products on a gullible public. After intermission we jump ahead two years. Ginsberg has his own office and plans to rob Merritt of both his company and Agnes. It all ends predictably in tragedy, with the greedy Ginsberg receiving a just comeuppance.
Co-directors Laura Sisskin and Brian Stites fail to instill any depth in the two-dimensional story, and their slow pacing makes the play's nearly three-hour running time feel much longer. Most of the cast are conquered by Lawson's purplish prose and ludicrous plotting and only go for surface characteristics. Allie Mulholland plays Ginsberg as a vulgar, loose-limbed brute with odd posture. Yes, he does have these qualities, but where is the charisma that makes him irresistibly attractive to his bosses and women? There are traces of connection and insight in Brandon Ruckdashel's smarmy Ivy League exec and Pooya Mohseni's flashy Agnes. But only Leah Wagner, as Sarah, creates a consistently credible character. Her every reaction, line reading, and gesture comes from a solid, thought-out place.
Interestingly, the most affecting moment happens when a window overlooking the actual street outside is opened. After a violent confrontation, the ensuing silence is punctuated by the sound of a passing truck. It was as if a breath of fresh air from the real world was being let into an artificial universe.
Presented by ReGroup Theatre at the Robert Moss Theater at 440 Studios, 440 Lafayette St., NYC. March 6–19. (212) 868-4444 or www.smarttix.com.
Critic's Score: C-