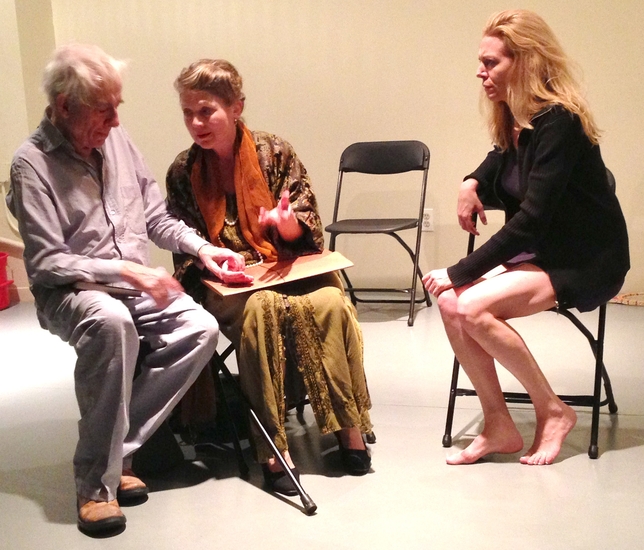 Tell me that Austin Pendleton is directing and acting in a Tennessee Williams play, and I'm there. So when the announcement came that he would be doing both for Williams' long one-act "Suddenly Last Summer," I signed up to review, despite the venue. I am not enamored of the tiny, plain rehearsal hall at the Alexander Technique Center where Mississippi Mud Productions showcases its work. I previously saw the one-woman show "Vivien Leigh: The Last Press Conference" there and felt that the excellent Jen Danby was unduly sabotaged by her surroundings. I'm no fonder of the place than I was before, but there is some fine acting going on in suite 805 at the moment.
A spicy stew of incest, insanity, cannibalism, and homosexuality set in a New Orleans garden planted to resemble a jungle, the play concerns Mrs. Violet Venable, a wealthy Southern widow who is attempting to have her niece Catharine, a poor relative, lobotomized to stop the young woman from telling the grotesque story of the death of Mrs. Venable's only son, Sebastian. A stroke prevented Mrs. Venable from accompanying Sebastian on his annual three-month globe-trotting vacation, during which he would gather material for the single poem a year he would write. Sebastian took his cousin instead. Dr. Cukrowicz, imported to diagnose Catharine, has been promised funding for his hospital if he accedes to Mrs. Venable's request.
With richly poetic language, scads of religious symbolism, and a lush, metaphorical setting, "Suddenly Last Summer" is hardly a work of naturalism. But when done with no set other than some folding chairs beneath stark ceiling lights to an audience inches away, heightened acting would be a fool's errand. What's surprising about this presentation is the depth of psychological portraiture that's revealed in the writing. Johanna Leister is an arresting Mrs. Venable, haughty, condescending, narcissistic, and manipulative, tightly coiled as she works to get her way, yet Leister also finds glints of a sympathetic vulnerability in the monster. Danby's unconventional take on Catharine is notable for the physical and mental disarray caused by her protracted incarceration in a Catholic insane asylum. Danby never lets that focus overwhelm the character, however, and she is riveting in Catharine's long climactic monologue describing Sebastian's demise.
Dr. Cukrowicz is a difficult role, which even the estimable Montgomery Clift struggled with onscreen. The physician is of necessity opaque about his thinking and largely reactive in his behavior. Pendleton is terrific, listening intently and pushing the drama forward with active choices. I only wish he had worn a costume, as everyone else does, rather than contemporary street clothes; they impede the character's formality.
As Catharine's white-trash mother and brother, Maureen Mooney and Gene Gallerano are more subdued than is usual, handicapped by the intimacy. Jody Prusan, as a nun accompanying Catharine, and Allison Plamondon, as Mrs. Venable's nervous personal assistant, do well.
Shorn of its atmosphere and size, the play is here reduced to its bones, which are striking. But let's be clear: This is not a production; it's an acting-class exercise.
Presented by Mississippi Mud Productions at the Alexander Technique Center for Performance and Development, 330 W. 38th St., Ste. 805, NYC. Feb. 15–March 4. (800) 838-3006 or www.brownpapertickets.com.
Critic's Score: B