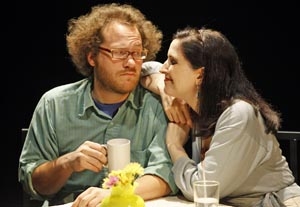 If there's a theme running through the four one-acts comprising "Summer Shorts 3: Series B," it's miscommunication—between lovers, families, friends, and strangers. Each playlet approaches the problem in a different format: comedy sketch, Greek tragedy, arch character study, and kitchen-sink realism. The result is a mixed bag, but the conflicts mostly come through loud and clear thanks to clean, spare direction and acting.
Carole Real's funny curtain raiser, "Don't Say Another Word," is a brief he-said-she-said doodle featuring a couple wrangling over his high blood pressure and her worries over her looks. It's a familiar routine, but Andy Grotelueschen and Stephanie D'Abruzzo handily avoid sitcom clichés by playing the truth of their characters rather than the laugh lines.
You couldn't ask for a more abrupt change of pace than Keith Reddin's tragic "The Sin Eater," a modern reboot of the Oresteia legend with an African-American family cast as the doomed House of Atreus. Teenager El and her long-lost brother, Orel, conspire to murder their mother, Cleo, for stabbing their father. A well-intentioned social worker and police officer, both white, serve as witnesses and ineffectual symbols of official society. Reddin, who wants to show the parallels between classical and contemporary treatments of revenge tragedy, has El, Orel, and Cleo occasionally shifting from modern language to quotations from "Hamlet." But the characters are more symbols than people, and the play is more like a grad-school project than a slice of painful life.
Director Billy Hopkins delivers a straightforward production and gets a powerful performance from Rosalyn Coleman as Cleo. But Sheldon Woodley as Orel and Clara Hopkins Daniels as El fail to effectively ground their outsized passion in reality. Jamie Watkins and J.J. Kandel (who also co-produced) lend sturdy support as the social worker and cop. Twelve-year-old Teala Dunn provides a welcome shot of adrenaline as a gossipy girlfriend of El's.
We are brought back to earth with Roger Hedden's "If I Had," a sharply observed character study of two working-class buddies and the rich daughter of the estate where they mow the lawn—or, as one puts it, "maintain the landscape." Hedden accurately portrays the petty jealousies and slights that occur when one friend outgrows another. Augie is full of rage at his upper-crust employers and wants to take it out on Audrey, the young lady of the house, who is relaxing in her bikini sipping a cocktail with a paper umbrella. Slim, Augie's business partner, maturely realizes that confronting Audrey would be bad for business. The encounter between these three makes for insightful social and personal commentary; it's concisely directed by Hopkins and performed with attention to detail by Andy Powers, Shane McRae, and Emily Tremaine.
The evening concludes with "The Killing," a recently unearthed William Inge work with autobiographical overtones. At first, the short piece seems to be a gay seduction scene, with two middle-aged men having a drink at the apartment of one of them after meeting in a bar. But the tone shifts when the depressed Mac (Neal Huff) begs his new acquaintance Huey (J.J. Kandel again) to shoot him. Mac cannot do the job himself because of his religious belief that taking your own life is a sin. The play is a short scream of anguish, given resonance if you know that Inge was unhappy about his homosexuality and committed suicide in 1973. Huff, Kandel, and director José Angel Santana give these lonely souls an aching presence. But the brief script has too many holes. Why would Huey, who has just met Mac, consent to such a crazy scheme? Why wouldn't he just leave? Or if he felt truly sorry for Mac, why not call the police? "The Killing" is chiefly valuable as a new addition to the canon of one of America's underappreciated playwrights, but the performances make it worth seeing.
Presented by J.J. Kandel and John McCormackat 59E59 Theaters, 59 E. 59th St
.,
NYC
.
July 31
–
Aug. 27. Schedule varies
.
(
212
)
279-4200 or www.ticketcentral.com
.
Casting by Billy Hopkins and Jessica Kelly
.