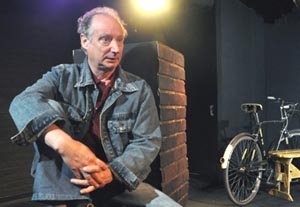 "Tales From Rainwater Pond" is made up of tales, not plays: short stories published in playwright-actor Billy Roche's collection of the same name. Roche tells us the tales truthfully and well, but they have not really been adapted for the stage, despite director Elizabeth Whyte's smart pacing. How much you enjoy this American premiere will depend on your patience, your interest in evocative language and rich observation, and of course your love of Irish literature. I enjoyed it very much.
In "Maggie Angre," Roche—the storyteller, or seanachai, as he calls himself in his program note—speaks of homely Maggie, whose charming brother Stephen drowned in Rainwater Pond. "If Stephen had lived" is a narrative refrain as Maggie goes for a swim in the pond and relives the day he died. It's less a play than an elegy, not just for Stephen but for Maggie's blighted life, and yet something in it sticks to the soul, like a musical coda.
"Haberdashery" is narrated by Peter, who has spent his life working in one—based on Kelly's of Cornmarket in Wexford Town, according to the program—while pining for Evelyn, who was herself loved by the two brothers who were to inherit the store. Peter recalls the pendant he and the brothers gave Evelyn for her birthday many years ago, which she dropped in Rainwater Pond and dared them all to fish out. Nobody, not even Maggie Angre, could find it. The first-person format and the complex relationships add a bit of drama to Peter's reflections, though the story of a repressed life of yearning, a classic Irish trope, holds few surprises.
Still, Roche's performance is so compellingly natural that it's unmissable for students of acting, and fans of Irish literature will not want to skip Roche's lyrical tales.
Presented by Wexford Arts Centre as part of 1st Irish 2009 at the Irish Repertory Theatre, 132 W. 22nd St
.,
NYC. Sept. 2
–
13. Wed
.–
Sat
.,
8 p.m
.;
Sat. and Sun
.,
3 p.m
. (
212
)
868-4444 or www.smarttix.com
.