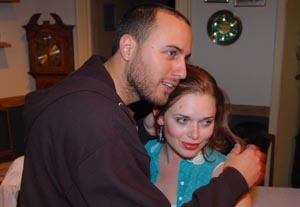 According to Robert Frost, "Home is the place where, when you have to go there, they have to take you in." In Joseph Sousa's affecting drama about a love-hate sibling relationship in a middle-class Jewish family, Sam (Will Allen), a well-meaning but manic and wayward soul, has returned home to Brooklyn, where he seeks refuge for himself and his pregnant, extremely angry girlfriend Maddy (Casandera M.J. Lollar). In Sam's absence, younger brother Jacob (Sousa) has had a religious awakening and become an ultra-Orthodox Jewish scholar. Conflicts erupt as Sam tries to tease the fun-loving "Jake" he remembers out from under the serious-minded "Jacob" his brother has become.
Sousa sets up Sam and Jacob as diametric opposites—even physically, they don't seem to be from the same gene pool—but the characters grow more complex and ambiguous as the events unfold. At first, Sam seems like nothing more than a tearaway and all-around screwup, the kind of guy who could easily drive a sibling to drink or religion. Gradually, he reveals himself to be more substantive than expected; for all his antic, irresponsible behavior, he hides nothing about himself and is genuinely loving toward Maddy, even when she gives him nothing but guff. Jacob, by contrast, has retreated into clannishness and piety as a means of avoiding some difficult truths about himself, which come to the fore when his embittered ex-girlfriend Evelyn (Shayna Padovano) shows up unexpectedly.
"Teeth of the Sons" doesn't entirely escape the common pitfalls of the dysfunctional-family drama. There's a fair amount of yelling and speechifying and occasional awkward moments in which the actors struggle with phrases that sound written rather than spoken. Still, the histrionics are leavened with moments of gentle humor and insight, and the trajectory of the brothers' relationship is sensitively developed and emotionally satisfying. Nicole Haran's smart, unshowy direction and Josh Iacovelli's detailed living-room set contribute to the verisimilitude.
Presented by Barefoot Theatre Company at the Cherry Lane Studio Theatre, 38 Commerce St., NYC. April 27–May 14. Wed.–Fri., 7 p.m.; Sat., 3 and 7 p.m. (212) 239-6200, (800) 432-7250, or www.telecharge.com.