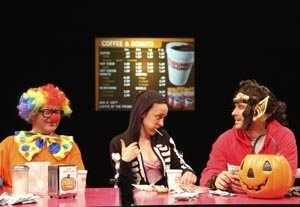 Why oh why oh why oh did anyone ever make
Telethon
, the new play at the Ohio? Seldom has such fancy been put to use with such little imagination.
Kristin Newborn's weird-for-the-sake-of-weird play finds five people—three of them mentally and physically disabled, the other two their keepers—sitting at a Dunkin' Donuts. The barely justified conceit is that it's a holiday, so all wear costumes as they trade unfunny jokes. This doesn't work very well the first time, but we rinse and repeat the bit for two more holidays. In the process we basically hear the same joke 300 times; it's funny perhaps 10 of them.
Maybe this is all supposed to be empowering. Maybe it's supposed to be about how we're all just killing time and should see how ridiculous we look doing it. Definitely it's all boring.
Director Ken Rus Schmoll has built up an impressive array of awards and accolades: Just this year he's received an Obie, been slobbered over by Ben Brantley in The New York Times, and been named one of the city's 10 best theater directors by Time Out New York. But based on this effort and the somewhat more successful
Telephone
, seen in February, Schmoll has a taste for unfinished, high-concept plays, which he treats with lackadaisical attention to detail. The interminable costume changes here are stultifying examples of sloppy stage work. And while there's not much in
Telethon
, Schmoll's lurching pacing ensures he doesn't even get all of what's there.
Presented by Clubbed Thumb as part of Summerworks 2009at the Ohio Theatre, 166 Wooster St
.,
NYC
.
June 21
–
27. Sun
.–
Tue
.,
Thu
.–
Sat
.,
8 p.m
.
(
212
)
352-3101
, (
866
)
811-4111, www.theatermania.com, or www.clubbedthumb.org
.