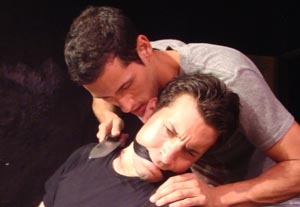 Nicholas E. Calhoun and Wayne Stephens, the producers and stars of this Off-Off-Broadway showcase production of Tony Piccirillo's 1996 two-hander
The 24th Day
, are doing what Back Stage often advises young actors to do: make their own breaks. And each is clearly talented, as the small but growing body of theater, film, and TV credits in their program bios would indicate. But despite their hard work and good intentions, what's on stage at the Kraine Theater does not serve them well, largely due to a problematic script whose shortcomings have been accentuated by Lars Preece's clumsy direction.
In Piccirillo's high-concept but half-baked play—which nevertheless was the basis for a 2004 indie film directed by the author—20-something Tom (Stephens) has been diagnosed as HIV-positive (a mere 24 days ago, hence the title). So he takes hostage the only man he has ever had sex with, 20-something Dan (Calhoun). Tom takes a blood sample from Dan and drops it off at a laboratory. The results will take 48 hours to come back. Until then, the two men are stuck with each other, with Tom insisting he will kill Dan if the results are positive, and Dan insisting they won't be.
Piccirillo lacks the chops to take this inherently dramatic situation and use it to reveal multilayered, believable characters. For every exchange that rings true, there's another one that doesn't, not to mention sections that simply tread water. Implausible behavior abounds, obstacles are conveniently sidestepped (human beings usually have more than one excretory function in 48 hours), and the ending features a twist visible long before we get there, not to mention some stunningly unbelievable behavior from one of the men. Finally, the very 1990s mindset of these two men about being gay seems dated at the end of the 21st century's first decade.
Preece's uncertain pacing, awkward scene transitions, occasional ham-fisted use of a film-style background score, and risibly unbelievable fight staging don't help matters. And while both actors have convincing stage presence, neither is yet skilled enough to be able to disguise flawed material. No doubt these looked like two juicy roles. But as Will was wont to say, the play's the thing. With a sturdier vehicle, Calhoun and Stephens may very well one day create their own success.
Presented by Born Young Productionsat the Kraine Theater, 85 E. Fourth St
.,
NYC
.
July 9
–
19. Thu
.–
Sat
.,
7:30 p.m
. (
Additional performance Sun
.,
July 19, 2:30 p.m
.)(
732
)
794-9516
.