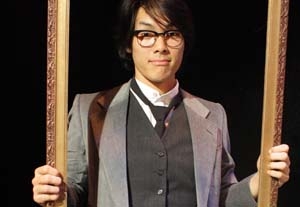 Ambition overreaches ability in Jon Steinhagen's split-personality comedy about the backstage tribulations of a theater company from Altoona, Pa., attempting to perform "The Velvet Gentleman," a Dadaist biography of the composer Erik Satie, at the New York International Fringe Festival. Though Steinhagen intends for the play's contrasting realistic and nonrealistic styles to complement each other and make a statement about the creative impulse felt by artists regardless of era, ability, or vision, he instead allows them to undercut each other, with the result that the backstage scenes seem tired and mundane and the Satie scenes rambling and silly.
Nevertheless, director Kevin P. Hale and his acting ensemble are up to the difficult task of distinguishing the play's two worlds. Of particular note are Lisa Altomare's depiction of a wise cat and John-Patrick Driscoll's portrayal of Satie's piano. And Steinhagen's recordings of Satie's piano music add a welcome element of beauty and otherworldliness. 
Presented by Playlab NYC as part of the New York International Fringe Festival at the Studio @ Cherry Lane Theatre, 38 Commerce St., NYC. Aug. 13–26. Remaining performances: Mon., Aug. 16, 3:45 p.m.; Tue., Aug. 17, 4 p.m.; Wed., Aug. 25, 2 p.m.; Thu., Aug. 26, 9:15 p.m. (866) 468-7619 or www.fringenyc.org.