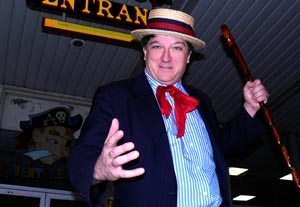 They say that vaudeville is a lost art, but despite his dogged efforts, I'm not sure D. Travis Stewart has found it. Known professionally as Trav S.D. (his vaudeville hip-hop name?), he's been a tireless promoter of old-school showbiz for many years and has written an acclaimed book on the subject ("No Applause, Just Throw Money: The Book That Made Vaudeville Famous"). Although his latest extravaganza has its intermittent charms, most of the performers assembled here exhibit genial eccentricity rather than talent per se.
Resplendent in greasepaint mustache and greasepaint glasses, Trav's emcee shtick involves a series of deliberately abject routines (juggling with one ball, imitating comedy-team straight men), though he reveals legit comic chops in the production's funniest bit, a sketch about corporate executives who speak in rhyme. The variety acts can be mercifully dubbed a mixed bag, though Amy Harlib ("The Amazing Amy") drew quite a few gasps with an impressive contortionist routine. All told, the results are pitched somewhere between a below-average "Ed Sullivan Show" and an above-average "Gong Show."
Presented by Trav S.D./Mountebanks as part of the New York International Fringe Festival at the Bleecker Theatre, 45 Bleecker St., NYC. Aug. 13–26. Remaining performances: Wed., Aug. 17, 9 p.m.; Sun., Aug. 21, 5:30 p.m.; Wed., Aug. 24, 4:15 p.m.; Fri., Aug. 26, 7:30 p.m. (866) 468-7619 or www.fringenyc.org.