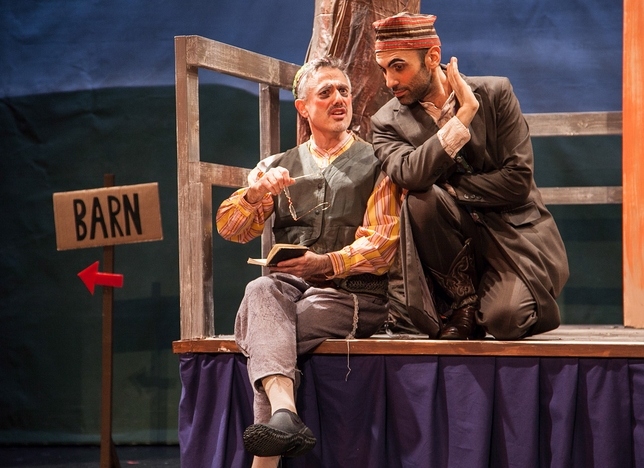 The coy asterisk in the title of Target Margin Theater's latest production is meant to promote mysterious fascination. The play in question, a classic of New York City's Yiddish theater in the 1920s by Polish immigrant Peretz Hirschbein, is called "Di Puste Kretshme," usually translated as "The Haunted Inn." But whether the inn is actually haunted or simply "abandoned"—an alternate translation of "puste"—is one of the unanswered questions of the drama itself. If director David Herskovits had managed to convey the uncanny terror of such ambiguity for his audience, the production might have been worth such semantic cleverness. Instead, the asterisk ought to warn Target Margin's spectators against a show that promises much but rewards very little.
The plot of "The (*) Inn" follows the consequences of a young girl's marriage to the wrong man. Bendet (Amir Darvish), a provincial horse dealer in a small rural Yiddish community, believes he can tame both his passionate daughter and the potentially spooked inn he just purchased. With one fell swoop he marries the former to a merchant and rebuilds the latter on a new location. But his daughter is kidnapped at her wedding and seduced by the wild young man who had once tried to court her. In the confusion that results Bendet decides that the inn can't be exorcised and burns it to the ground.
Exactly what forces are at play here—love, madness, greed, ghosts—is never entirely explained. For Hirschbein, who adapted symbolist techniques to his subject matter, that obscurity is the play's strength. As in a horror movie in which the monster is never identified, the experience of the characters must be clear if the confusion of their world is to raise the audience's hairs.
But for Herskovits and his designers (including Carolyn Mraz on sets and Ásta Bennie Hostetter on costumes), "symbolism" means "flat," "cartoonish," and "overly stylized." Two-dimensional props and scene pieces create a confusingly dislocated mise en scène, and the actors are made to deliver their lines without depth. The first scene in particular plays like a parody without object, all direct address and artificial gestures. From this initial moment the production becomes unnecessarily hard to follow and frustratingly averse to any kind of emotional connection.
Rachel Claire and Sam T. West, as Bendet's daughter and the lover who whisks her away, share a refreshingly high-stakes scene together in the middle of the play. And David Greenspan, who is poorly utilized as Bendet's comically aging father, delivers a compelling monologue in a rigorous monotone shortly afterward. But these two moments only offer glimpses of the production that might have been. For the rest of the evening a story that centers on untamed animal passion is delivered with the energy of a high school drama-club matinee. Hirschbein's ghosts deserve to roam again in New York, and one hopes that Target Margin's production will inspire another company to draw them out.
Presented by Target Margin Theater at Abrons Arts Center, 466 Grand St., NYC. March 11–30. (212) 352-3101, (866) 811-4111, www.targetmargin.org, or www.abronsartscenter.org.
Critic's Score: C