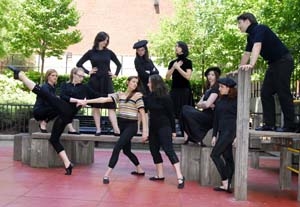 Melanie Cortier's bland balletic choreography of "The Beátitudes," a 35-minute dance play about the Beat movement, bears no resemblance whatsoever to Beat sensibilities. Harmoniously crafted, as well as pleasingly executed by the Eidolon Ballet (of which Fortier is co-founder and artistic director), the choreography is highly conventional, predictable, and lightweight. It lacks surprises, intensity, rhythmic originality, and edginess, the defining characteristics of Beat literature and culture.
Set in post–World War II America, the crucible of the Beat Generation, the work situates a returning soldier, his hip girlfriend, an adventurous clean-cut guy, and a seductive female free spirit amid an ensemble of black-clad, beret-wearing beatniks. While purportedly telling a story, by Justin Allen, about the origins of Beat ideas, the dancing does little in the way of conveying a narrative, as it employs virtually no storytelling tools. All of the characters express themselves through the same repetitious ballet vocabulary: short technique class–like phrases of classical arabesques, attitude turns, big développés, and petite allegro steps. Though set to the likes of revolutionary Jack Kerouac and Allen Ginsberg text and agitated Charlie Parker and Louis Prima jazz music, no moodiness, bebop rhythms, or offbeat aesthetic qualities creep into Fortier's movement language. Why must all the pirouettes be done en dehors in turned-out ballet fashion, rather than inside, with parallel legs, perhaps in a relevé with bent knees?
As there is no drama contained within the choreography, the dancers attempt to impose a superficial sort of "acting" upon it. The result feels phony. The truest and most affecting scene in the show is a romantic pas de deux danced with fetching fluidity by Alfredo Solivan and A. Temple Kemezis. Simply a dreamy love duet—with nothing Beat about it—it shows the choreographer's competence in arranging ballet phrases without emphasizing the production's essential flaw: Cortier's complete failure to choreographically capture the Beat spirit.

Presented by Eidolon Ballet as part of the New York International Fringe Festival at Dixon Place, 161A Chrystie St., NYC. Remaining performances: Wed., Aug. 18, 3:30 p.m.; Thu., Aug. 19, 9:15 p.m.; Fri., Aug. 20, 8 p.m. (866) 468-7619 or www.fringenyc.org.