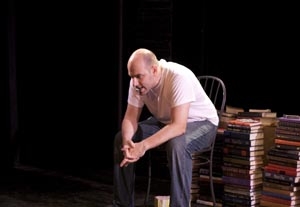 Michael Edison Hayden's new play about the relationship between a professional dominatrix and her client thankfully eschews the sensational and proves surprisingly engrossing and ultimately touching. A drama about two socially marginalized people who find each other, it wisely avoids reducing S&M desires to easy psychological clichés about self-hatred.
Shlumpy Mark looks to be in his 30s, is probably agoraphobic, and makes his living as the super for his Astoria apartment building. His apartment contains stacks and stacks of books and little else. A self-described masochist, he has a weekly appointment with a dominatrix arranged through an agency. Whip-smart Helen, in her 20s and of Middle Eastern descent, is arriving for her third visit. After their session, Mark sends her home with a copy of James Joyce's "Dubliners." That gesture opens a door to a growing personal relationship that eventually alters both characters forever.
Aadya Bedi and Scott David Nogi turn in accomplished performances in this intricate dance under the disciplined direction of Matt Urban. Bedi looks smashing in Shaumyika Sharma's sexy latex gear, but the focus here is on character. Bradley Anderson is fine in a small offstage role as a neighbor.
Presented by Imperfect People as part of the New York International Fringe Festival at the Cherry Pit, 155 Bank St
.,
NYC. Aug. 14
–
27. Remaining performances
:
Wed
.,
Aug. 19, 5:15 p.m
.;
Mon
.,
Aug. 24, 12:45 p.m
.;
Thu
.,
Aug. 27, 7:45 p.m
. (
866
)
468-7619 or www.fringenyc.org
.