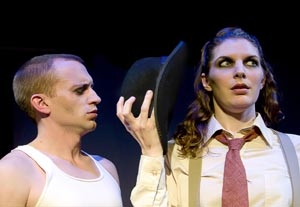 Silent movies, especially slapstick comedies and weepy melodramas, have provided their own best parodies for decades. So why do we need a new satire of that quirky, jerky medium now? We don't, as evidenced by this earnest production.
Nor has writer-director Matt Lyle employed the early 20th-century art form to tell a modern tale—unless you count lots of crotch punching as a worthy successor to tying a damsel to railroad tracks. Jeff Swearingen in the title role delivers a couple of amusing sight gags and is the best dancer on stage, though his raccoon-eyes makeup is creepily too Buster Keatonish. Kim Lyle as his trainer, mostly in male costuming, mouths her dialogue rather too forcefully, making her projected subtitles almost moot.
Two short black-and-white "training films" by Karl Schaeffer inserted into this hourlong play prove anew that silent comedy is funnier on film—and that silence, Marcel Marceau and Bill Irwin aside, almost never takes the stage.
Presented by Bootstraps Comedy Theater as part of the New York International Fringe Festivalat the Connelly Theater, 220 E. Fourth St
.,
NYC
.
Aug. 26
–
30. Remaining performances
:
Thu
.,
Aug. 27, 5:15 p.m
.;
Fri
.,
Aug. 28, 5:15 p.m
.;
Sat
.,
Aug. 29, 8:30 p.m
.;
Sun
.,
Aug. 30, 2:30 p.m
.