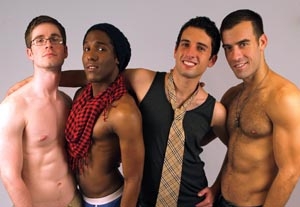 If playwright Jason Mitchell is aiming for nothing more than a boys-in-their-underpants play, he definitely has himself a crowd pleaser with "The Boys Upstairs." However, if he is looking to, as his lead character says in the play, "create something that was about us"—which in this case is 20-something gay boys in the Big Apple—then he needs to roll up his sleeves and get to work.
Mitchell is exceedingly facile with one-liners and adept at mining stereotypes for easy laughs but less successful at giving his characters depth. There's also an unpleasant whiff of ageism in his undercooked dramatization of the relationship between one of the boys and his 30-something lover.
Nic Cory, Joel T. Bauer, Josh Segarra, and Kristen-Alexzander Griffith skate breezily along the shiny surface as the four friends, and David A. Rudd plays all of the men in their lives with decent differentiation. Mitchell, however, seems capable of more than sitcom slickness. Here's hoping he goes for it.
Presented by Justin Allen Pifer as part of the New York International Fringe Festivalat the SoHo Playhouse, 15 Vandam St
.,
NYC
.
Aug. 15
–
28. Remaining performances
:
Tue
.,
Aug. 18, 7 p.m
.;
Thu
.,
Aug. 27, 5 p.m
.;
Fri
.,
Aug. 28, 7 p.m
.
(
866
)
468-7619 or www.fringenyc.org
.