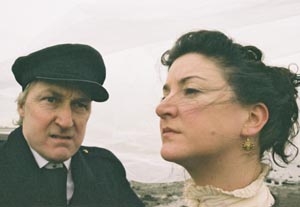 This is Back Stage's review of the show's original run at the Irish Arts Center this part March
.
The Cambria
was the name of the ship that in 1845 took the great African American Frederick Douglass from Boston to Ireland. Douglass, an escaped slave, still had a price on his head and faced increasing danger after publishing his life story. So with forged papers he boarded this Cunard Line paddle steamer to flee, only to find that freedom on the high seas was not an assured thing. Donal O'Kelly is an Irish writer-performer who as author has a nose for the little-known adventurous story, as well as possessing that inherent Irish talent for being a teller of tales. He was last seen in New York performing his
Catalpa
, another historical narrative of a nautical escape, this time from Australia.
That was a one-man show; in
The Cambria
O'Kelly is greatly aided by his performing partner, Sorcha Fox. In a time when we are awash with solo author-actors, the dramatic possibilities and variations increase remarkably with the addition of just one more artist—it's a case of double the pleasure, double the fun. Especially so here, as Fox, in a series of multiple roles, demonstrates range and depth.
The play, presented by the Irish Arts Center in association with the Classical Theatre of Harlem, is given a brief (and seemingly unnecessary) framing of a contemporary scene of a Nigerian immigrant being deported from Ireland. The essential story gets underway as Douglass, calling himself Mr. Johnson, settles into his cabin on the first-class deck. He is thus next door to the slave-owning Southerner Mr. Dodd, whose young daughter Matilda believes Mr. Johnson to be a minstrel performer. Dodd, who is Douglass' nemesis, uses his authority with the English Captain Jenkins to have Johnson removed to steerage and demands his return to the United States. From here, playwright O'Kelly introduces several plot lines, flirting with several poetic themes, including the albatross from Coleridge's "Rime of the Ancient Mariner," the trapped ballerina in Matilda's music box, and being stranded in a fog. At one critical point O'Kelly as author gets rather foggy himself; as a result, the narrative loses momentum and like the Cambria becomes immobile. But the tale, as does Douglass, finds rescue in the integrity of Captain Jenkins and is given a rousing finale. We meet the great Irish patriot Daniel O'Connell, who is trying to fight off the yoke of English rule and sees in Douglass a soul mate on a similar crusade. He welcomes Douglass to Ireland—and freedom.
O'Kelly as performer makes Dodd a figure from a 19th-century melodrama, complete with twisted features to match his twisted values. This contrasts well with his reading of Douglass, whom O'Kelly, without any attempt at impersonation, imbues with both authority and dignity. His rendering of Douglass' quiet soliloquies about free-floating boats on Chesapeake Bay and witnessing the physical cruelty of slavery are among the most memorable moments of the evening.
Presented by the Irish Arts Center in association with the Classical Theatre of Harlem at the Irish Arts Center, 553 W. 51st St
.,
NYC. Sept. 2
–
Oct. 25. Schedule varies
. (
212
)
868-4444 or www.smarttix.com
.