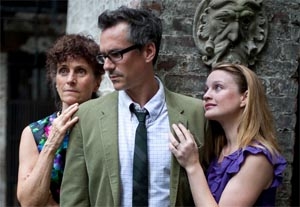 Playwright Andrew Unterberg has all the ingredients for a diverting suspenser in the mold of Ira Levin or Shirley Jackson in "The Crow Mill." Instead, he's opted for a serious psychological drama, something his characters and story can't support. The result, however articulate, is forced and unconvincing.
Nathan is a 40-ish scientist involved in mapping the human genome. The victim of violent abuse as a youth, he has no memory of his life prior to the age of 12, the result of a horrific assault by his alcoholic father. When he falls for and marries the 20-something Anna, a psychotherapist, he starts to open up emotionally. But when his mother is diagnosed with early-stage Alzheimer's and comes to live with the newlyweds, Anna becomes fixated on helping Nathan understand what happened to him, something his mother has always refused to discuss.
Implausibilities abound: Would Anna really think it professionally appropriate to treat her husband? Would a brilliant geneticist really believe that absolutely everything about a human being is genetically dictated? Would a man this terrified and contemptuous of therapy really fall for a shrink?
Eli Gonda's direction feels forced, ratcheting up emotion just for the sake of it. The talented Margot White and Quentin Maré do their best to negotiate heated exchanges that sound more like dueling theses than marital spats. Geraldine Librandi makes the mother compelling if not entirely believable. All three are hamstrung by the show's final twist.
Unterberg clearly has ability, but "The Crow Mill" is a miscalculation.
Presented by Share the Red Cape Productions as part of the New York International Fringe Festival at the Cherry Pit, 155 Bank St
.,
NYC. Aug. 20
–
29. Remaining performances
:
Fri
.,
Aug. 21, 4:15 p.m
.;
Tue
.,
Aug. 25, 2:30 p.m
.;
Wed
.,
Aug. 26, 12:45 p.m
.;
Sat
.,
Aug. 29, 7:45 p.m
. (
866
)
468-7619 or www.fringenyc.org. Casting by Cindi Rush Casting
.