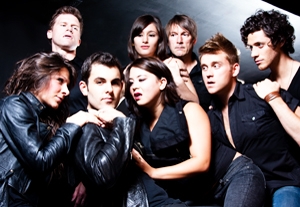 "The Cure" attempts to address the profound issues of death and immortality. The aim is admirable, given that the current vampire craze often fails to explore these subjects very deeply, but "The Cure" ultimately doesn't meet its goal of taking them seriously.
The set and costume design undermine the show's attempts to travel beyond cliché. The chain-draped set looks more like an inexpensive S&M dungeon than the sanctuary of a vampire family following its own moral code. The black leather-and-mesh costumes further cheapen the show's intentions. 
Marc Weiser's score feels contemporary and catchy, with power ballads that could certainly outlive this year's festival. His compositions showcase the cast's remarkable talent, especially the tremendous vocals of Michael Buchanan, Zak Resnick, Gregg Goodbrod, and Jen Sese. In solo numbers, these four move well beyond the bounds of the script to deliver performances of depth and feeling. In "Who I Am," for example, Buchanan comes into his own, radiating with emotion. Similarly, while Resnick's voice and delivery impress in powerful songs like "100 to 1," his character falls a bit flat, relying upon the stereotype of a reformed, dying bad boy. 
"The Cure" certainly has potential, but the prevalence of forced and confusing plot turns hampers its attempts to move beyond standard vampire fare.  

Presented by Samantha Saltzman in association with Michael Cedar, Michael Roderick, and Erica Ruff as part of the New York Musical Theatre Festival at the Chernuchin Theatre, American Theatre of Actors, 314 W. 54th St., NYC. Oct. 2–11. Remaining performances: Tue., Oct. 6, 8 p.m.; Sat., Oct. 10, 9 p.m.; Sun., Oct. 11, 1 p.m. (866) 811-4111 or www.nymf.org. Casting by Michael Cassara.