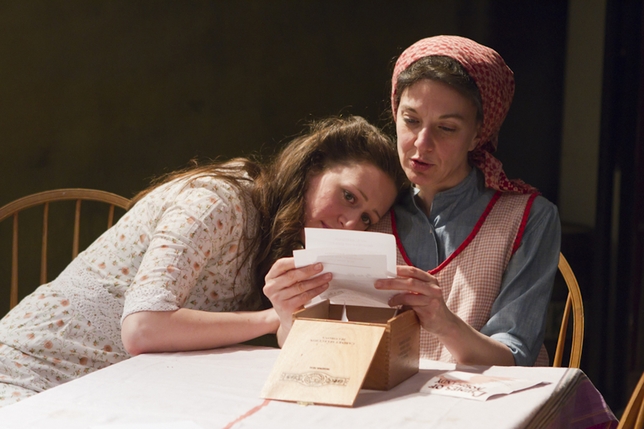 Metropolitan Playhouse, which is in the inestimable business of excavating America's theatrical past, is devoting its 21st season to that evergreen theme, the American Dream. Owen Davis' "The Detour"—first produced in 1921 on Broadway and not seen in New York since—is a prime candidate for it, having not one but several characters in the pursuit of dreams. The principal contenders are a Long Island farmer's wife and daughter, who surprisingly emerge as firebrand feminists. Davis makes them fresh and vital, a couple of Noras heading straight for the door. They are wonderful company until the playwright turns cowardly and settles for a conventional ending. But until then it is never less than compelling to hear the startling sentiments (for 1921) expressed by these two women. In Helen Hardy, the mother, Davis has created a role of genuine dimension, and Michelle Eugene poignantly delivers it with straightforward, endearing clarity.
The play is set on a Long Island that is still farmland, where Helen transfers her dreams to her daughter, Kate (Alex Trow), a promising young artist hoping for success in New York City. "The things I wanted to do, you're going to do," promises Helen. Her husband, the stolid Stephen (John Ottavino), has Scarlet O'Hara–style yearnings of owning land—lots of it. Kate's would-be fiancé, Tom Lane (Rowan Michael Meyer), longs to get away from farming and into the new craze for automobiles. Neighbors who will seriously affect these ambitions are the famed artist Dana Lamont (Mitch Tebo) and his elegant wife, Dora (Andrea Sooch), county official Ben Glenny (Micah McCain), and antiques dealer Weinstein (Stu Richel). Of course, the various dreams collide, and as they do Davis provides several perceptive angles on American visions of happiness and prosperity. The sign that gives the play its title, an actual onstage prop, represents the several dreams that are not deferred but detoured.
Laura Livingston's sensitive direction wraps the production in an appealing naturalism. The eight-person cast is strong throughout, but it is the Hardy family trio that really impresses. Trow is a touching Kate, Ottavino's Stephen is a brick wall of a man, infuriatingly thick and obdurate, and Eugene, moving and restrained in a should-be-seen performance, creates a Helen who is common sense personified.
New York here is both the Promised Land and the Big Bad City. Be prepared for some 1921 attitudes, including blatant male chauvinism and offhand anti-Semitism. Such failings bring us back to that chickenhearted ending; disenchanted compromise would have been the real finale. But along the way Davis gives the audience glimpses of other possible consequences, allowing us to dream.
Presented by and at Metropolitan Playhouse, 220 E. Fourth St., NYC. March 2–24. (800) 838-3006, www.brownpapertickets.com, or www.metropolitanplayhouse.org.
Critic's Score: A-