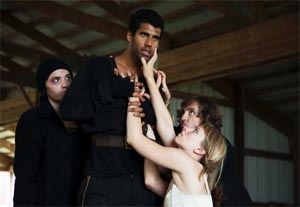 As Noël Coward once wrote, "Ninety minutes is a long, long time," and that sentiment certainly applies to Rag 'N Bone Theatre Company's frenetic, misguided stage adaptation of Dylan Thomas' screenplay "The Doctor and the Devils."
First published in 1953, shortly before his death, Thomas' script is based on the real-life story of two 19th-century grave robbers who supplied bodies for anatomical research in exchange for cash. Desperately poor, they eventually began murdering people to keep the supply going.
Adapter-director Daniel Balkin evinces no interest in storytelling, psychology, social and cultural context, or the philosophical and moral dilemmas faced by his characters. What he does seem enamored of are sloppy dumb-show stagings of corpse deliveries and crude fantasias of overlapping voices. (Any moment I expected to hear "Sweeney. Sweeney. Sweeney. Sweeney. Sweeeeeennnneeeeey!") Miles and miles of stage time are simply wasted.
Balkin puts his young players in period-appropriate costumes but has them speak in contemporary American accents. He is fond of using anachronistic musical accompaniment, but with everybody sounding as they do, ironic contrast is impossible. The six actors double roles unconvincingly and dive wildly over the edge, no doubt due to their director's encouragement.
A program note refers to the "Jacobean horrors" of the material. The only horror I experienced was the stifling heat and humidity in the un-air-conditioned Milagro Theatre.
Presented by Rag 'N Bone Theatre Company as part of the New York International Fringe Festivalat the Clemente Soto Vélez Cultural and Educational Center's Milagro Theatre, 107 Suffolk St
.,
NYC
.
Aug. 15
–
23. Remaining performances
:
Thu
.,
Aug. 20, 5:15 p.m
.;
Sat
.,
Aug. 22, 3:45 p.m
.;
Sun
.,
Aug. 23, noon
.(
866
)
468-7619 or www.fringenyc.org
.