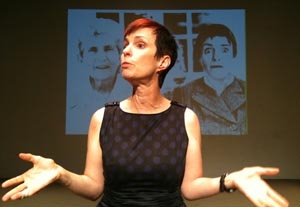 Holly Hughes begins her monologue with the caveat that she will neither expound on "the human condition" nor take audience members "on a journey" leading "home." Home, we will discover in "The Dog and Pony Show (Bring Your Own Pony)," is a complicated place for Hughes. Living in Michigan with her partner and a small army of pets, Hughes must make sense of the life she's built, the culture-war legacy she continues to represent, and the political climate she's forced to endure. Clean narratives and pat answers would be dishonest. Instead, she weaves a tapestry of impressions and anecdotes, with topics ranging from an annual "feminist convention" to "The Wizard of Oz." Her dogs feature as both source material—her experience learning how to "collect" one dog's semen is especially hilarious—and a grounding force. A projector periodically shows old black-and-white photos of women and their pets, linking her to a long line of what she calls "dog people."
The night I saw the show, Hughes' audience was largely friends and longtime supporters. Effortlessly turning Dixon Place's spacious theater into a hearth, with only a music stand and a cushioned chair as a set, Hughes commands by being comfortable, playing catch up with her girlfriends. She evokes a shy middle-aged woman whenever she softens her hands and wrings her hands. But her resting position is still knees bent and face forward, like an athlete preparing to pounce. She wears and wields her history as a mark of authority; every cynical glance reminds us that she has seen some things, as have we.
What has always been rewarding about Hughes' work is its intelligence, its writerly eloquence, and its grownup sophistication, all of which are in abundance here. In a story that captures the heart of "The Dog and Pony Show," Hughes, sitting by a river while halfheartedly contemplating suicide after the 2004 presidential election, is brought out of her reverie by a nuzzle from one of her pets. The animal's comfort is neither resolution nor new understanding but the gentle reminder of more living to be done. 
Presented by and at Dixon Place 161A Chrystie St., NYC. June 3–18. Fri. and Sat., 7:30 p.m.
(212) 352-3101, (866) 811-4111, www.theatermania.com, or www.dixonplace.org.