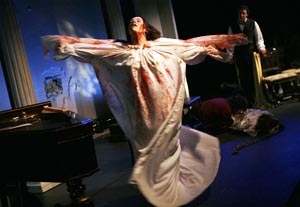 Writer-director Brent Cirves has had an intriguing idea for a musical: all the music will be diegetic, composed by the characters, and the kind of music they write will dramatize who they are. He uses Edgar Allan Poe's classic story as a mere pretext, adding characters, plot, and yards and yards of slow-moving dialogue. But Mike Johnson's naive period score doesn't really tell us much about Frederick Usher; his possibly mad twin sister, Madeleine; his lover Annabel Lee; and his protégé William Reed. Poe can conjure in a single sentence more dark atmosphere than this musical can generate in two acts and as many hours.
With the exception of the lovely Carolyn Myers as Annabel Lee, the principals are played by college students, and though they work hard, they are not giving professional-level performances. Mary Myers, nevertheless, shows real promise as Madeleine. She's not in control of her instrument yet, but she's inventive and has genuine stage presence.
Presented by Woodbury Forest School as part of the New York International Fringe Festivalat the Connelly Theater, 220 E. Fourth St
.,
NYC
.
Aug. 14
–
19. Remaining performances
:
Tue
.,
Aug. 18, 4:15 p.m
.;
Wed
.,
Aug. 19, 5 p.m
.(
866
)
468-7619 or www.fringenyc.org
.