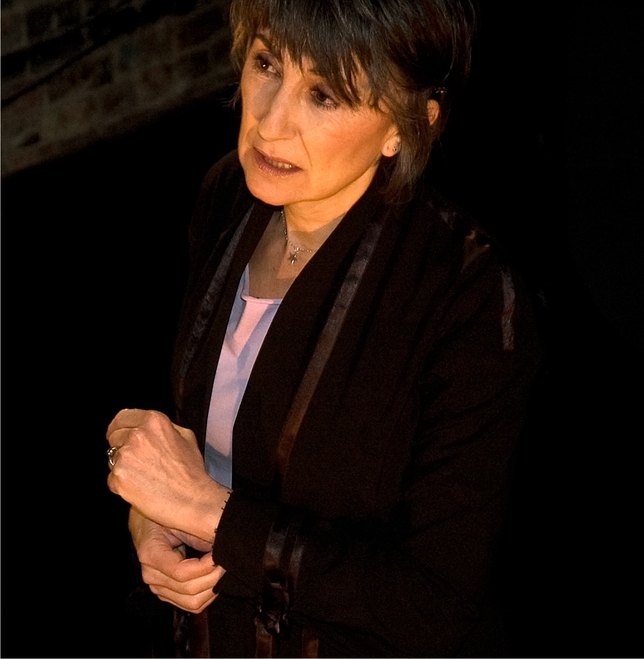 She enters from the back of La MaMa's First Floor Theatre while the house lights are still up, tentatively descending the riser stairs in black heels and a tasseled black coat that largely obscures a simple one-piece beige dress. Slim and elegant, wearing just a few pieces of understated jewelry, she gazes over the audience, and you think that she is a latecomer searching for her seat. But as she smiles and nods shyly at individual faces, your own included, you realize that she must be French-Romanian actor Simona Maicanescu, and that tonight's performance of Wallace Shawn's haunting dramatic monologue "The Fever" has already begun. Finally reaching the stage floor, Maicanescu hesitates momentarily before walking to a tiny off-white stage-center square that appears to have been angrily scratched into the black paint. For the next 90 minutes she will never leave that square, and the experience you and she share will likely never leave you.
"The Fever" is Shawn's attempt to make us recognize the brutal social and economic inequality that our upscale society requires of the world in order to function and to question what our complicity in it means. The character speaking is labeled only "the Traveler" and was played Off-Broadway by Shawn in the play's Obie Award–winning 1990 premiere. Vanessa Redgrave headlined a 2007 film adaptation by Shawn and Carlo Nero, Redgrave's son, who also directed, which introduced me to the work. Now Maicanescu, in collaboration with her director, the popular Swedish playwright Lars Norén, has created a newer version, drawn from Shawn's original and his 2007 rewrite. First performed in French in 2009, it is here getting its American debut in English.
The Traveler is shivering from a fever on the floor of her bathroom in a hotel in a Third-World country headed by a repressive regime. Her mind wanders in hallucinatory fashion over the transformation she has undergone. Born into privilege and "trained to be eager" about keeping it, she is now a woman questioning why she shouldn't "give it all away" to help the poor. It may sound tiresomely doctrinaire, but Shawn's forceful, relentlessly smart writing is laced with undeniable logic and psychological insight. The case for his theory that the root of the world's problems lies in the rage that poor people feel in the face of injustice, particularly of the economic kind, is made persuasively and can only be dismissed by being ignored. Of course, he doesn't know what to do about it any more than we do.
Maicanescu is a riveting performer, vocally and physically, the latter aided by Norén's inspired decision to confine her movement. As she balances precariously in that square, the Traveler becomes a metaphor for how imprisoned we are by our need for ever-increasing consumption. "The Fever" demands a delicate blend of intelligence and emotion that Maicanescu mostly achieves, though there were a few times I wished for a dash more of the second. Ultimately, though, she and this deeply unsettling expression of a passionate mind get right under the skin.
Presented by La MaMa E.T.C., in association with Le Nouvel Olympia, CDR de Tours Théâtre de l'Espace, Scène Nationale de Besançon/Apocryphe Tendance, and Athénée-Théâtre Louis Jouvet, at La MaMa E.T.C., 74 E. Fourth St., NYC. Jan. 24–Feb. 3. (212) 352-3101, (866) 811-4111, (212) 475-7710, www.theatermania.com, or www.lamama.org.
Critic's Score: A-