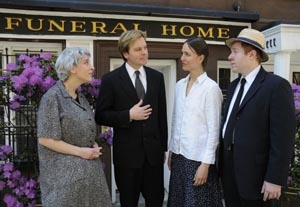 I've been to actual funerals that had more life than
The Funeral Director's Wife
. This disjointed, rambling new comedy by Beth Gilleland and Kathleen Douglass (herself the wife of a former funeral director) is being advertised as a classic piece of Americana along the lines of
Spoon River Anthology
and
Our Town
. In that
The Funeral Director's Wife
is about life in a small town, then yes. Otherwise, such comparisons are absurd.
The show is little more than an excuse for anecdotes about the funeral business and pointed commentary about small town life, interspersed with cornball jokes and a cappella singing from the quartet of actors. The song choices range from the ubiquitous funeral favorite "Rock of Ages" to "American Pie." None of them further the plot or provide anything other than another stumbling block to director Richmond Shepard's already shaky sense of pacing and a chance for the actors to showcase their vocal talents.
But though they can sing, nothing about their performances proves they know anything about comedy. Sam Platizky, charged with delivering the tired funeral-biz jokes, oversells them like a Catskills comic; Lisa Margolin as various female characters either comes across as a Jackie Hoffman impersonator with her comedic material or tries too hard with her more dramatic moments. And Paul Geiger is a bland nonpresence as the funeral director, Joseph Cease.
As the titular character, Dee (yes, that makes her name Dee Cease, har har), Anaïs Alexandra delivers her "humorous" stories about life in a funeral home in the same martyred, colorless voice for 90 minutes. Dee claims there's not much that's funny about the funeral business. If
The Funeral Director's Wife
is any indication, I couldn't agree more.
Presented by and at the Richmond Shepard Theatre
,
309 E. 26th St
.,
NYC
.
June 9
–
27. Tue
.–
Sat
.,
8 p.m
.
(
212
)
684-2690
.