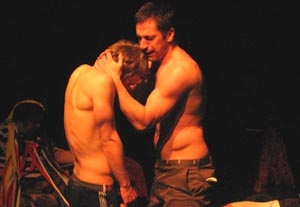 The first rule of "The Garage" is you do not talk about the Garage. Indeed, the Zagreb Youth Theatre's ferociously violent phantasmagoria, adapted from Zdenko Mesaric's Croatian novel, could probably teach the tough guys from the film "Fight Club" a few things. Not so much a play as a simulated societal meltdown, "The Garage" courageously follows its dark thematic material to a shockingly bleak conclusion.
Young Binat (Vedran Živolic) was reared without education in a dismal future state; his sick mother is dying of diabetes, and his father is an abusive drunk. The local government isn't much better, having hedged all bets on the burgeoning "euthanasia tourism" industry, which allows ailing wretches from around the world to come and be put down in luxurious facilities. In a last ditch effort to earn money, Binat's father enters him in an underground boxing league, where the tough young pugilist takes on boys his own age, women, grown men, and eventually even rabid dogs, while his father plays the odds.
Director Ivica Buljan's harsh staging progresses organically. The actors roam aimlessly during transitions, seem to converge by chance for a scene, and then return to the disorder after. This flux of anarchy and order, paired nicely with the raw music of the Beat Fleet, might echo the way civilizations come and go, but we forget about any kind of commentary during the well-executed adrenalin-fused brawls. The clawing and choking of the fight choreography (by Buljan) is frantic, imprecise, and absolutely gripping.
"The Garage" concerns itself with far-reaching themes of child abuse and ethics, but it succeeds more in presenting sympathetic characters. Zivolic imbues the largely silent Binat with unconfined joy and rage and ably switches between the two. In addition, Ksenija Marinkovic depicts Binat's mother with determined affection, while Frano Maskovic characterizes the boy's volatile father with zeal.
Presented by La MaMa E.T.C. in association with the Zagreb Youth Theatre at La MaMa E.T.C., 66 E. Fourth St., NYC. Jan. 28–Feb. 7. Thu.–Sat., 7:30 p.m.; Sun., 2:30 p.m. (212) 352-3101, (866) 811-4111, or www.lamama.org.