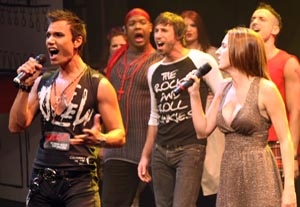 Going to see "The Hole" is a bit like arriving all decked out at the hottest spot in town only to find out it's Christmastime and the fun people are on vacation. The package looks foolproof: a nostalgia-ridden recapitulation of debaucheries from days not so far gone (the Hole, the East Village club that gives the musical its name, had its heyday in the early part of this decade before it was renamed and later relocated as the Cock). All the audience really needs to enjoy itself is danceable music, legitimately funny jokes, pectoral muscles, and disco balls. "The Hole" delivers only on the last two counts.
The show's structure is predictable—a group of messed-up friends go to the Hole to fill the void, stuff happens, occasionally they sing ballads—but it lacks a point of view. Witless dialogue and unfocused performances make it impossible to care about the characters, and there's nothing to care about in their stead. The club itself, represented by a platform, a multipurpose turntable (a clever choice by designer Zane Enloe), and loads of red light, is too generic to be interesting. The satire, aimed at targets easy (the sexy airhead, the bossy dyke, the annoying girl from New Jersey) and awkward (negligent single mothers, coke addicts, horny high school teachers), never amounts to a substantive critique. The scandal (nudity, simulated sex acts, racist jokes, sniffing cocaine powder off a dirty bathroom floor) is more tasteless than titillating.
The poor acoustics of St. Clement's Episcopal Church, unaided by a temperamental sound system, don't help matters. At the performance I saw, most of the lyrics were inaudible. The situation will improve over the course of the run, but that won't help matters either. When Alex Michaels, as drag queen "La Qeefa," makes her grand entrance, the show's problem is neatly summed up. She's dressed to the nines and, as played by Michaels, draped in charisma, but as soon as she opens her mouth, she's a slave to her writers. Honestly, if you can't even get the drag-queen banter right, I'll pay my cover charge elsewhere.
Presented by the Layre Productions at the Theatre at St. Clement's, 423 W. 46th St
.,
NYC. Sept. 12
–
20. Tue
.–
Thu, Sat
.,
8 p.m
.;
Fri
.,
7 and 10 p.m
.;
Sun
.,
7 p.m
. (
212
)
868-4444 or www.smarttix.com
.