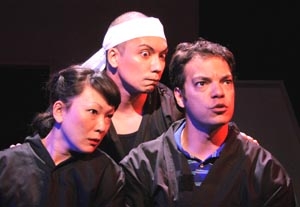 Vampire Cowboys, the downtown theater company that has made a name for itself over the last decade with a string of successful genre-busting comedies, like last year's "Alice in Slasherland," has surveyed the current theatrical landscape and come to the conclusion that it must evolve to survive. The company's brand of comic-book humor and elaborate fight choreography has been embraced by the same mainstream ("Spider-Man," anyone?) that once looked upon that aesthetic with disdain. So, as co
–
artistic director and playwright Qui Nguyen writes in a program note, his latest play, "The Inexplicable Redemption of Agent G," is taking the company's "irreverent aesthetic to uncharted territories." The result is an uneasy metashow caught between artistic ambitions.
The third play in a trilogy (of which the second part has never been produced), "Agent G" continues the story of Nguyen's cousin Hung (Paco Tolson), who escaped from Vietnam to Arkansas in 1988. In this final installment, Hung and his fiancee, Molly (Bonnie Sherman), travel to Ho Chi Minh City to visit a stranger (Amy Kim Waschke) who has written him an intriguing letter. Along the way they encounter ninja attacks, sudden genre shifts, and questions of artistic license. But while Nguyen's previous shows all featured a clear plot line (albeit hilariously ridiculous ones), he seems caught between drafts here, writing himself into the play as a character, cheekily portrayed by African-American actor William Jackson Harper.
For three-quarters of the play, Nguyen mostly successfully balances the usual Vampire Cowboys tongue-in-cheek plot twists and asides with his more serious goal of writing the true story of his cousin's life—even if, as he acknowledges, he neither speaks Vietnamese nor has ever visited the country. It's not until playwright David Henry Hwang (Jon Hoche), who memorably wrote himself into his "Yellow Face," appears to verbally battle Nguyen that the play irredeemably falters.
Everything that Vampire Cowboys does well is in evidence here, from director Robert Ross Parker's video interludes to the fight choreography that has spoiled audiences for the work from other companies. But Nguyen seems less certain than before, questioning his motives and his right to tell this story and tossing in some pointed criticism of artistic directors and playwriting grants that is better suited for the website 2amtheater.com. As the play falls deeper into its metatheatrical rabbit hole, audiences expecting the typical Vampire Cowboys fare are bound to be scratching their heads. However, one suspects that "The Inexplicable Redemption of Agent G" can be chalked up to growing pains for a company and playwright that have consistently proven to be smart and inventive regarding the conventions of downtown theater. 
Presented by Vampire Cowboys Theatre Company, in association with Incubator Arts Project,
at Incubator Arts Project, St. Mark's Church-in-the-Bowery, 131 E. 10th St., NYC.
March 27–April 16. Thu.–Sun., 8 p.m.
(212) 352-3101, (866) 811-4111, www.theatermania.com, or www.vampirecowboys.com.