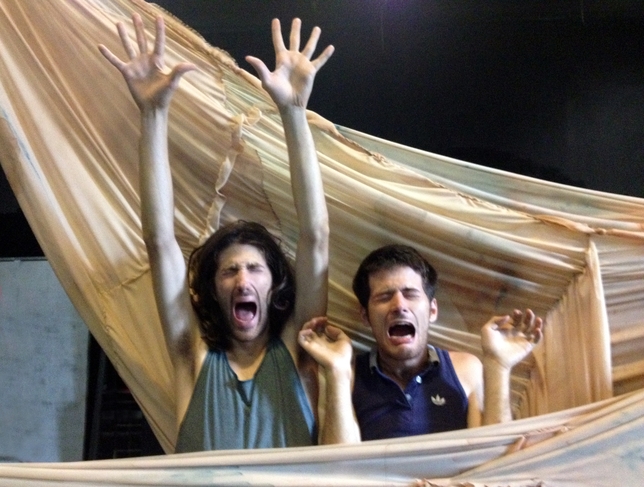 Don't expect any easy meanings or explanations from "<the invisible draft>," an aesthetically superb but vexing performance collage conceived and created by Claire Moodey. The closest you'll come is in an oblique exchange toward the end between Maxwell and Milo Cramer, the brothers who capably execute the show's live aspects. "What does that mean?" Maxwell asks. "I don't know," Milo answers, "but I like to have a manifesto to hide behind."
While I didn't experience the liminal dialogue between reality and representation promised in the production notes, Moodey's incoherent manifesto is ably wrought, blared through Jonah Rosenberg's crisp, multilayered sound design and illuminated by Lotte Marie Allen's inventive animations. A recurring motif of words clacking out on a time-lapsed chalkboard is particularly stunning. The Cramer brothers' constant manipulation of a sheet that's used as a projection surface only serves to further enhance the fluid abstraction of the piece.
Presented by Preview of the Arts as part of the New York International Fringe Festival at the New Ohio Theater,154 Christopher St., NYC. Aug. 11–26. Remaining performances: Thu., Aug. 23, 4 p.m.; Sat., Aug. 25, 5:45 p.m.; Sun., Aug. 26, noon. (866) 468-7619 or www.fringenyc.org.
Critic's score: C