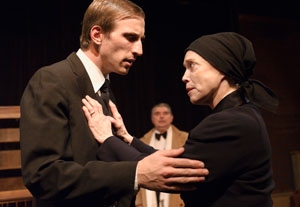 It's hard to believe that such an iconic American title as Samson Raphaelson's "The Jazz Singer" hasn't had a New York stage production since 1927—the hit 1925 show's only local professional revival to date. Of course, it's the 1927 film—the first talkie—and superstar Al Jolson's legendary performance that really established the property. Still, there have been two movie remakes—with Danny Thomas in 1952 and Neil Diamond in 1980—so why not on stage? It's probably the characters' casual racism and the use of blackface, though these things existed and are accurately portrayed. That's too bad, because Metropolitan Playhouse's production reveals a surprisingly sturdy script, containing much less melodrama than expected, that speaks to the heart of an age-old American conundrum: what it means for immigrants to reinvent themselves in a new land.
Set in New York, the play begins as young Jakie Rabinowitz returns to his Lower East Side home, having run away five years earlier as a teenager to pursue a career singing jazz rather than become a cantor like his father. Show business is Jakie's religion, not Judaism. Rechristened Jack Robin, he is about to make his Broadway debut starring in the musical revue "April Follies," opposite the lovely, privileged, and very gentile Mary Dale, a musical comedy star who discovered him playing in a Chicago dive. Jakie's mother is thrilled that he is back, but his father believes that his son's behavior is blasphemous and continues to reject him. When Jakie asserts his independence and leaves, his father suffers a heart attack and cannot sing the prayers in synagogue for the Day of Atonement. Father and mother beg Jakie to return and take his father's place, but Jakie's show is opening the same night. It's to Raphaelson's credit that he makes this choice a believably agonizing one for Jakie, and anyone who doesn't know the story is likely to be surprised by how it all turns out (hint: not like the Jolson movie).
Raphaelson uses the tale to explore the clash between the sacred and the profane in then-contemporary American society, seeing good aspects of both worlds. He also examines issues of class and race, with Jakie's embrace of black culture through its music a rebuke to the pernicious racism of American culture at large, despite his use of blackface while performing.
Director Laura Livingston brings the play to vivid life in this sturdy production, despite some uneven performances in smaller roles. Justin Flagg is a magnetic Jakie, mixing a winning boyishness with the hard edge of a survivor and a deep love for his parents. Charles E. Gerber and Nona Pipes shine in those roles, utterly convincing as a longtime, loving couple. The beautifully understated Gerber smartly roots the cantor's rejection of his son in his deep concern for the boy, believing that God will punish him for his wickedness, thus avoiding melodramatic bombast. Pipes segues from loving mother to worried wife with ease as she delicately delineates the tug of war that's tearing this strong woman apart. Christine Bullen is every inch the emancipated 1920s woman as Mary, at ease with her social position but willing to defy it to be the person she wants to be, in a performance full of telling detail. (Watch her in the moment when Mary discovers that "Jack Robin" is Jewish.) Michael Durkin is a properly rough-and-ready impresario as "Follies" producer Harry Lee; Andrew Clateman makes for a flavorful old friend of the Rabinowitz family; and Benjamin Slater charms as a young lad studying with Cantor Rabinowitz who can't erase the memory of Jakie.
Alex Roe's set allows for vibrantly theatrical changes between the Rabinowitz apartment and backstage on Broadway. "The Jazz Singer" is an eternal story, as the shocking number of homeless youth on the streets of America today attest. Here's to Metropolitan Playhouse for demonstrating the play's continued relevance.
Presented by and at Metropolitan Playhouse, 220 E. Fourth St., NYC. Nov. 18–Dec. 11. Wed.–Sat., 8 p.m.; Sat. and Sun., 3 p.m. (No performances Wed. and Thu., Nov. 23 and 24.) (212) 995-5302 or www.metropolitanplayhouse.org.