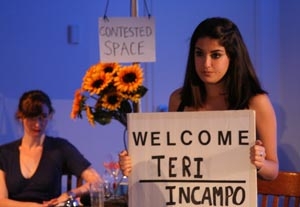 Copyright law exists to preserve the original meaning and aesthetic quality of an intellectual property. Without it, the theater would be subjected to a host of knockoff productions. For instance,
Doubt
could be presented as a high British farce by a troupe of aboriginal ballet dancers at any Duane Reade in the city.
While that might sound mildly interesting, the law has been rightly enforced on Ordinary Theater's production
The Joys of Fantasy
, which was originally devised as a spiritual sequel to Thornton Wilder's
Our Town
but has—by its own admission—been squashed by the hammer of copyright into a quagmire of low-fidelity atmospherics and oblique references. Rather unskillfully employing Wilder's device of breaking the fourth wall, several actors narrate the story of two lovers and the punk rocker who wants to break them up. Ultimately, the Mohawked Michael (played with more than enough snark by Michael Cross Burke) takes Scott (Scott Troost) hostage, while Teri (Teri Incampo) finds herself stuck in a well.
You'll have to take it on faith that this actually happens, because we mostly just hear about the plot from the narrators. There is also much erroneous talk about this play being a "sexier, more magical" version of
Our Town
, with "more-sophisticated conversation," by which playwright-director Mitchell Polin surely means the flagrant, almost juvenile use of the F-word. Regardless, Polin's solipsistic piece becomes too enraptured by its own commentary to offer anything worth commenting on. As a result, audiences probably won't care what happens to poor Teri and Scott, whom Incampo and Troost make sincere attempts to render as actual characters. Susannah Berard, Caroline Gart, and Claire Kavanah also exert themselves admirably within the often cumbersome tone of the narration.
The sorrow of reality: Ordinary Theater's "fair use" production amounts to nothing but high talk.
Presented by Ordinary Theaterat Twelve21, 12 W. 21st St
.,
NYC
.
July 8
–
25. Wed
.–
Sat
.,
8 p.m
.
(
212
)
409-8662 or www.ordinarytheater.com
.