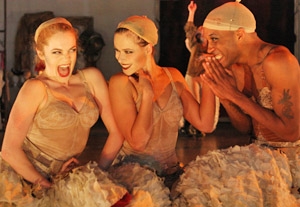 This is Back Stage's review of the show's original run in May 2008
.
Conceived, directed, and choreographed by Austin McCormick, "The Judgment of Paris" is the perfect antidote to all that stark minimalism too often equated with aesthetic sophistication on Manhattan's downtown arts scene. Presented by McCormick's Company XIV at its resident performance space in Carroll Gardens, Brooklyn (May 9–31), the show is a bawdy celebration of the Baroque, both in the artistic sense—with its Baroque-dance movement vocabulary and stage directions based on the Baroque opera "The Judgment of Paris" by John Weaver—and in the general sense, as in overly ornamented and deliciously excessive.
Based on a Greek myth in which Paris awards a golden apple to Aphrodite in exchange for Helen of Troy and thus launches the Trojan War, McCormick's production makes liberal use of just about every mode of titillating entertainment imaginable. There's can-can dancing, burlesque routines, a drag queen, pantomime, camp, Cole Porter lyrics, gorgeous a cappella singing, and a war ballet. But while the multitalented Toby Burns is tantalizing in the title role and McCormick concocts wonderfully imaginative fusions of contemporary choreography and old-fashioned theatrics, what happens on stage is only half the story. The gaudy gold programs, the pre-show candy offerings, and the sickeningly sweet (I'm not complaining; they were scrumptious!) lemon cupcakes served at intermission were integral parts of the performance, by the end of which a dark turn is taken and we see that ugliness and extravagant prettiness are actually two sides of the same coin.
Presented by and at Company XIV 303 Bond St., Brooklyn, NYC. Dec. 10–Jan. 16. Thu. and Sat., 8 p.m. (No performance Thu., Dec. 24, and Sat., Dec. 19 and Jan. 9.) (212) 868-4444 or www.smarttix.com.