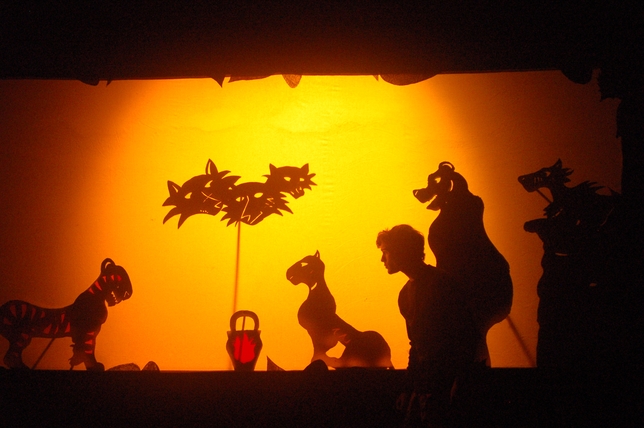 How little you actually need to tell a good story. Theatre East's "The Jungle Book" features a grand total of two visible actors, several simple shadow puppets, and what looks like a small movie screen (or a bed sheet stretched over a wooden frame, if you want to be uncharitable about it), but it's still a charming 45 minutes of theater.
The company has rented the Peter Jay Sharp Theater, the upstairs space at Playwrights Horizons, where its own "Normalcy" is playing in rep with this show. "The Jungle Book" maintains a light, all-ages vibe from the moment the audience takes its seats. The curtain speech ends with the kids (well, everybody) instructed to give the first cue to the light-board operator, and we get our first glimpse of Alex (Charlie Solis), a little boy reading under the covers with a flashlight long after his bedtime. Alex literally enters the world of Rudyard Kipling's beautiful story and takes on the role of Mowgli, the little boy raised by wolves and taught the law of the jungle by a bear named Baloo and a panther named Bagheera (Kire Tosevski and Bianca Christina, respectively).
I should mention at this point that when producing artistic director Judson Jones gave that curtain speech, one of the questions he asked the shorter-than-average audience was "What do you need to do before you do a play of 'The Jungle Book'?" One of the answers that came back was "Watch the movie!" So, yes, there's a great Disney animated film of "The Jungle Book," one that kids apparently still watch, but, as is the case with a lot of Disney book-to-movie adaptations, there are several points of departure between the film and its source. One of the aspects of Kipling's novel that playwright and puppet designer Megan O'Brien brings back is the somber tone, and it's a good decision.
The other good decision made here—possibly by O'Brien and possibly by director Dina Epshteyn—is to have Alex/Mowgli in front of the screen and interacting with the shadow puppets, rather than being one himself. The idea is a perfect metaphor for the way we apprehend stories told to us on a page, with only a general sense of the world created by the words but a total commitment to becoming a part of it ourselves.
This is a production that's obviously working under some budgetary constraints, but it still manages to be very clever in several places. There's one especially successful puppet: a frightening Shere Kahn, the villainous tiger (Tosevski's vocal rendition sounds pleasingly like a Bond villain), which has red LEDs for eyes. I may be an adult, but I had a fine time at "The Jungle Book."
Presented by Theatre East at the Peter Jay Sharp Theater, 416 W. 42nd St., NYC. Sept. 1–23. Sat. and Sun., 1 and 3 p.m. (Additional performance Sun., Sept. 9, 6:30 p.m. (212) 279-4200 or www.ticketcentral.com.
Critic's Score: B+