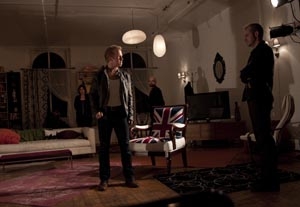 Performing "The Life and Death of King John," one of Shakespeare's most densely packed history plays, in the confines of an intimate loft space is not without its share of pitfalls, and director (and adapter) Ross Williams impressively manages to overcome some of them in this robust production. At the same time, however, his multimedia, hipster concept for the piece creates a few problems. Nevertheless, Williams and his company are able to offer up a lucid and generally well-spoken interpretation of this rarely seen tragedy.
Among the show's chief assets is Vince Gatton's mercurial and highly strung performance in the title role. Gatton's transformation from a monarch who rules like an assured businessman to a panicked, childlike tyrant fascinates. Equally impressive is Leigh Williams' regally venomous turn as Constance, John's sister-in-law and the mother of young Arthur (J.C. Vasquez), whose claim on the throne is one of the causes of John's primary troubles during his reign: extended hostilities with France.
Also notable are Carmen Meyers as John's mother, the aggressive and ambitious Eleanor, and Kevin Brewer, slyly commanding as Cardinal Pandulph, who has been sent to protest the king's unwillingness to seat the new Archbishop of Canterbury. John's ongoing conflicts with the pope lead his nobles to question his leadership, particularly the Earl of Salisbury (played pungently by Zac Hoogendyk).
Less satisfying is Chris Bresky's overly emotive work as Philip Faulconbridge, a bastard whom John elevates to knighthood, making him one of the king's primary allies. Bresky certainly revels in this character's wily duplicity, but his tendency to either shout or garble the language ultimately undermines his work. Similarly, many of the others in the company fall into the trap of loudly declaiming—even Gatton and Williams—and as the show progresses, the sheer volume of the performers' voices in the intimate space is wearying.
Equally problematic are scenic designer G. Warren Stiles' mod, seemingly Ikea-furnished environment and Charles Q. Drexler's video (generally used to needlessly contextualize the action), which only raise questions as the production unfolds. One can't help but wonder why these handsomely dressed (costumes by Kristine Koury) downtown folks are putting on this show, particularly after the opening sequence, a raucous altercation between the performers over a television remote control.
This moment—and the hand-to-hand barroom brawl
–
style fights the company engages in for the play's war scenes—has been staged with flair by fight choreographer Alicia Rodis. The audience's attentiveness during these battles (they were clearly engaged in rooting for certain characters) suggests that Williams and company have succeeded in their primary task: getting theatergoers to follow and invest themselves in centuries-old history. 
Presented by New York Shakespeare Exchange at Access Theater, 380 Broadway, NYC. Sept. 18–Oct. 2. Wed.–Sun., 8 p.m. (800) 838-3006 or www.brownpapertickets.com.