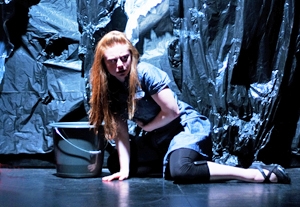 Nosedive Productions' "The Little One" features a distressing lack of stagecraft, given its vampire-driven plot. Directed by Pete Boisvert with a too-literal approach to James Comtois' script, the show merely plods along, unbuoyed by theatrical magic.
That's a shame, because the script manages to be a fresh and original take on the usual vampire story. As newly made vamp Cynthia (Becky Byers, whose deftness with Qui Nguyen's fight choreography makes one long for her to work for Nguyen's Vampire Cowboys Theatre Company) finds her footing in her new world with help from centuries-old Marie (the always welcome Rebecca Comtois), "The Little One" creates a wholly convincing alternative to the usual vampire rules. The playwright's best contribution is turning humans into inaudible monsters for vampires, so that their screams are muffled as fangs sink into their necks.
The actors give solid performances, though most are incapable of projecting over the wheezing fan in the Kraine Theater and are unable to find their (admittedly dim) light. Byers and Comtois have an edgy rapport that can change on a dime from friendly to accusatory, making their scenes together hum with energy. Comtois, however, could use a little more fire in her performance; Marie is constantly described as overly ambitious and manipulative, but the sympathetic Comtois makes her seem like the only vampire keeping her head when all those around her are losing theirs. As the shady Russian vamp Sergei, Christopher Yustin nails a late-in-the-play monologue, adding a droll touch to Nguyen's climactic battle between Cynthia and her vampire bête noire, Gogol (a charmingly dangerous Patrick Shearer).
The performances rarely get the chance to soar, however, because of Boisvert's cinematic direction. If a character looks into a mirror, you can be sure there's a mirror present on stage, which must be painstakingly folded up and carefully carried backstage between scenes. The vampires' victims routinely get up and walk away at the ends of scenes (only one corpse is dragged offstage), and set changes seem clunky and endless, bringing the show to a halt as chairs are rearranged. With a little less focus on the trappings of the story and more on Comtois' witty and vivid script, "The Little One" could have been fangtastic.

Presented by Nosedive Productions at the Kraine Theater, 85 E. Fourth St., NYC. June 19–July 10. Thu.–Sat., 7:30 p.m. (212) 352-3101, (866) 811-4111, or www.theatermania.com.