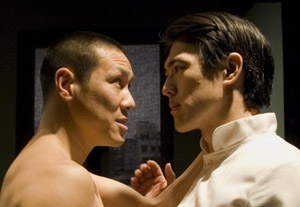 Reggie Cheong-Leen's intriguing three-person play "The Nanjing Race," which examines a culture clash not usually seen in American drama, was first produced at the McCarter Theatre in Princeton, N.J., in 1994, with B.D. Wong. Though it won the American Theatre Critics' Association's award for best regional play, it's only now getting its New York City debut, courtesy of Abingdon Theatre Company. With its able cast and sure-handed direction by Brian Tom O'Connor, the play proves to be an absorbing if flawed work.
In 1988, a time of cautious liberalization in China, gay Japanese-American businessman Philip Hagen arrives in Nanjing to attend an industrial fair. It's his first trip to Asia, and he's looking for a source of cheap supplies for his company. At his not-so-luxurious hotel, he finds himself interacting with two male hotel workers, Yu Ahn and Bao. The rough-hewn Yu Ahn is anxious to get out of China and live in the West, where he hopes to make lots of money, so that his estranged wife will let him see his son. Bao, though he once tried to swim to Hong Kong with his male lover, is a sensitive soul with a deep connection to his Chinese heritage and says he is content to remain in his homeland. Bao hates the Japanese, for their horrific actions as an invading army in the Nanjing Massacre of 1937. Philip is also not thrilled with the Japanese side of his ethnicity, feeling that in America it always makes him the other. Yu Ahn maneuvers feverishly to get Philip to agree to sponsor his emigration to America, but of course it's Bao who ends up with that offer, after he spends a night with Philip.
The play alternates between scenes in which Yu Ahn and Bao interact with Philip and scenes below stairs between the two of them. The contrast is vivid. Upstairs the Chinese men speak in broken, accented English and project an air of subservience; downstairs they speak in Chinese—meaning we hear them in perfect, idiomatic English—and we observe what they really think and feel. Cheong-Leen thoroughly explores complications of ethnic and sexual identity, related issues of self-worth, and the exploitation of one culture by another. Unfortunately, some choices are not the most believable, particularly the short-lived romantic idyll between Philip and Bao that leads to Philip's unbidden offer of an emigration sponsorship. The playwright also lays on Philip's "ugly American" sense of cultural superiority a bit too much; it's a cliché that makes the character less interesting and telegraphs the ending. The same goes for Philip's self-hatred fueled by his hyphenated heritage. It's all just a bit too pat. (Must Bao be the very first Asian the nearly 40-year-old Philip has had sex with?)
Fortunately, the strong acting goes a long way toward mitigating the writing's occasional missteps. Ian Wen is a forceful and wrenching Yu Ahn, thoroughly communicating the character's desperation and provoking our sympathy despite homophobic attitudes and macho posturing. James Chen seems a bit too young for Bao, but his quiet, centered work aptly dramatizes the character's inner core of great strength. Marcus Ho accents Philip's intelligence and sexual magnetism to offset his instinctive imperialism, nearly making Philip's heedless seduction of Bao and their subsequent brief romance ring true.
Kudos to set designer Andrew Lu for his simple but ingenious accommodation, in this tiny theater, of the one scene that takes place outside the hotel. Kudos too to Abingdon Theatre Company for giving "The Nanjing Race" its chance in NYC.

Presented by and at Abingdon Theatre Company, 312 W. 36th St., NYC. Nov. 7–21. Wed. and Thu., 7 p.m.; Fri. and Sat., 8 p.m.; Sat. and Sun., 2 p.m. (212) 868-2055 or www.abingdontheatre.org. Casting by William Schill.