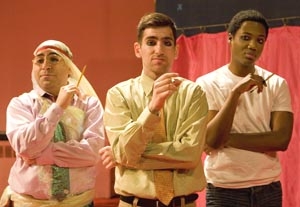 The title of Target Margin's latest production, according to artistic director David Herskovits, is what legendary director Elia Kazan termed "the one great love affair—the early passion that shapes a person's life and can never be recaptured." In this case, it applies to the collaboration between Kazan and Tennessee Williams on the play "Camino Real," a surreal, nonlinear poetic fantasy that took both men on an artistic detour into the realm of the avant-garde. The critical and commercial failure of this 1953 Broadway offering prevented those two great artists from turning away from naturalism (though in Williams' case only for a while) and possibly taking the American theater in a different direction. Herskovits, an acclaimed avatar of downtown theater who cut his teeth working with Richard Foreman, naturally sees this as a shame. Though I don't share Herskovits' sentiment, the piece that he and his company have created is so full of passion and love that I couldn't help but surrender to it.
"The Really Big Once" is based on a ton of research, with text taken from letters, journals, and interviews, many of which have never been published or revealed, as well as from Williams' play. But this isn't a dry piece of documentary theater. Rather, the text is exploded, raining down on its audience like a shower of brightly colored confetti. Key stories and phrases crop up repeatedly, and often two or more are spoken simultaneously. What seems like an unceasing mongrel musical soundtrack accompanies the action (the pop "Also Sprach Zarathustra" was an entirely appropriate hoot). The intrepid young cast of five takes turns playing all the players in this saga—Williams, Kazan, his wife Molly, producer Cheryl Crawford, star Eli Wallach, and others—as well as contemporary artists, such as Foreman, John Guare, and Michael Kahn, who saw the original production and share Herskovits' point of view. The actors are also themselves, however, interacting with each other, a peripatetic Foley artist, and an unimpressed stagehand throughout the piece.
The cast avoids particular characterizations of Williams and crew, which sometimes makes it difficult to be sure who is speaking. Instead, we get a different emotional color from each actor: McKenna Kerrigan is dry and smart; John Kurzynowski is petulant and intense; Maria-Christina Oliveras is maternal and melancholy; Hubert Point-Du-Jour is stalwart and bright-eyed; Steven Rattazzi is oafish and awkward. These are also all aspects of the principals in the saga. Ultimately, the collision of these colors with the fragmented text feels like a remarkable illustration of the messiness of the creative process.
Certain set pieces play particularly well, the most effective being a sequence in which Williams reads his play aloud for wealthy potential investors. And the piece makes a canny parallel between Molly Kazan's attempts to influence Williams' writing in ways she thinks may benefit her husband and the email attempt of Kazan's widow, Frances, to influence Herskovits' portrayal of Molly.
Set designer Laura Jellinek's pink-and-blue set (yin and yang? male and female?)—with script pages lining the walls high above, suspended gray bookshelf and desk units, a platform with a small stage hidden by a curtain below it, and central gold pillar topped with a wheel from which hang props, costume pieces, and more script pages—contains the chaos well, though I bet Lenore Doxsee wishes she had better resources with which to light it.
I'm not a stranger to Foreman-inspired avant-garde theater, but I can't say it's something to which I'm drawn. I attended "The Really Big Once" due to my love of Williams' work and my interest in Herskovits' research. And I'm very glad I went. 
Presented by Target Margin Theater and the Ontological-Hysteric Incubator at the Ontological Theater at St. Mark's Church, 131 E. 10th St., NYC. April 17–May 8. Tue., Thu., and Fri., 8 p.m.; Sat., 5 and 8 p.m.; Sun., 7 p.m. (Additional performance Wed., April 28, 8 p.m.; Tue., April 27, performance is at 7 p.m.) (212) 352-3101, (866) 811-4111, www.theatermania.com, or www.targetmargin.org.