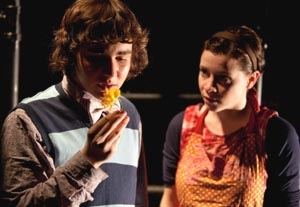 Friedrich Nietzsche once asserted that anything we can find the words to say is already dead in our hearts. In the subterranean world of "The Realm," playwright Sarah Myers attempts to engage the lives and deaths of words and hearts both figuratively and literally. The attempt is admirable, but ultimately this botched drama is inconsistent in its philosophical excavations and never fully breaks ground.
Set in "a future not so far from now," when civilization has been forced to move underground, the play imagines a society in which humankind has evolved a mechanism to reduce language—and therefore desire, Myers claims—to cope with the lack of resources. Faced with severe rationing and conditioning, two young sweethearts named Kansas and James steal away into the outlying caves, even as James' capacity for words is slowly sucked out of him one gasp at a time.
The notion that language is a commodity to be sought as diligently as water should be a perfect fit for an engrossing piece of science fiction, but Myers approaches the idea with only the most general and tentative probing. A troublingly verbose character named Laura (earnestly portrayed by Amy Bodnar), who can speak only in cryptic pseudo-poetry, exemplifies this muted discourse perfectly. The pleasing absurdity of a character determined to remember the word "daffodil" wears off after only a few scenes of dogged, nostalgic repetition. Otherwise, "The Realm" is a typical chase story, in which characters learn predictable lessons about friendship and—surprise!—the importance of communicating.
Jessica Fisch's economical direction relies heavily on several modular formations of black sewer piping (designed by Amanda Stevens) and successfully suggests the expansive underground caverns of the title setting. Emily Olson's Kansas displays a petulant temper and Aaron Simon Gross' James a wistful naiveté, and the two have a charmingly innocent chemistry.
Presented by Down Payment Productions at the Wild Project, 195 E. Third St
.,
NYC. April 7
–
18. Thu
.–
Sat
.,
8 p.m
.;
Sat. and Sun
.,
3 p.m
. (
212
)
352-3101
, (
866
)
811-4111, www.theatermania.com, or www.therealmplay.com. Casting by Megan Larche
.