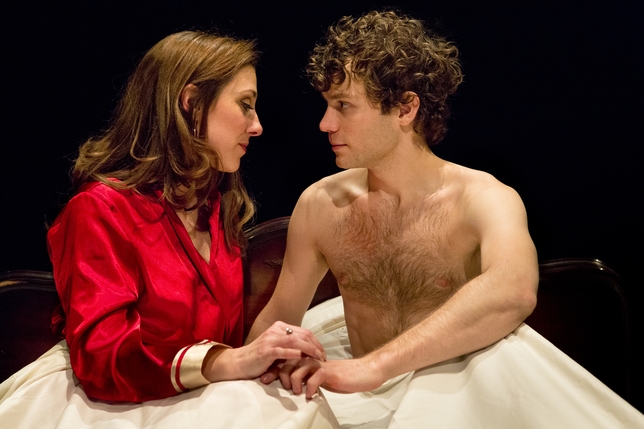 Marie-Henri Beyle, better known by his singular pen name, Stendhal, was a masterful and complex novelist who furthered the romantic fiction of his day into the development of the psychological novel, employing political events and autobiographical elements. His themes and plots could be melodramatic, but his characters were finely drawn, in both love and war. It figures that he was an admirer of both Napoleon and Lord Byron and that he influenced Victor Hugo. Stendhal contended that every historical period had been a romantic one in its own way. His own politics and romantic sensibility combined most notably in "The Red and the Black." Set in 1828, at the peak of France's royal restoration (of Charles X), Stendhal's masterpiece was spread over a broad, rich canvas.
Now author-director DeLoss Brown has adapted, rather than distilled, this work into something more resembling a two-act period domestic comedy. He sweeps away virtually all of the political import of the book from the get-go in a prologue offering Stendahl himself (Keith Herron) in a discussion with his editor (Brian Linden), saying in effect that politics get in the way of storytelling. They certainly don't get in the way of Brown's storytelling. Stendhal is spinning in Montmartre cemetery.
Our hero, Julien (Lucas Wells), is still a post-Napoleonic "liberal," employed as a tutor by the mayor of a provincial town near the French Alps. The mayor, De Rênal (Linden), is an "ultra-conservative royalist." But Julien expresses his governmental preference only by hiding a picture of the late emperor in his mattress, and De Rênal concerns himself mostly with local matters, such as firing Chélan, the village's longtime priest (Jeremy Johnson), and besting his town-affairs rival Valenod (Herron) in minutiae.
Romantic—or at least sexual—intrigue abounds and is largely played for laughs. The senior would-be roué Valenod pursues De Rênal's wife, Louise (Krista Adams Santilli), as does the 19-year-old Julien, who lives in her household and has rejected her maid Elisa (Katie Burton). The mayor is oblivious to all these pursuits. Much of this is amusing, even charming, but it's more Feydeau than Stendhal. Wells and Santilli do well as the comic romantic leads, and Burton is enjoyable as the rejected maid. But the other actors, in multiple parts, often try too hard to differentiate their various characters by overplaying them.
Presented by Capolavori Productions, in association with Cressid Theater Company, at the Theatre at St. Clement's, 423 W. 46th St., NYC. Jan. 23–Feb. 3. (212) 352-3101, (866) 811-4111, www.theatermania.com, or www.theredandtheblackplay.com.
Critic's Score: C-